A message from Toronto Water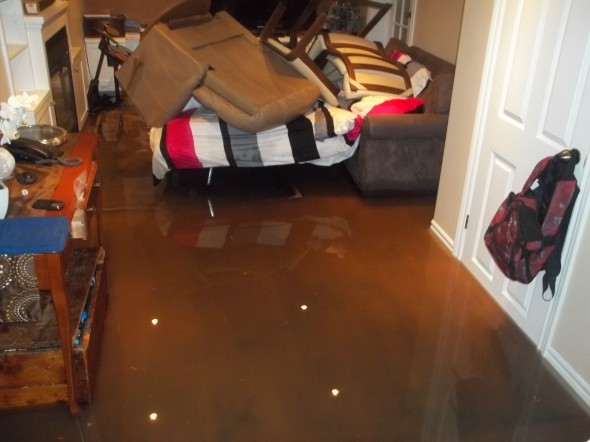 While preparing our recent story about local basement flooding titled  Q & A with Toronto Water, we received a request from the city of Toronto's water department, asking if they could write a post  that would appear in Birch Cliff News.
Due to the severity of the situation, we have agreed.
We've also agreed because we believe in dialogue — if you've got something you want to say, scroll to the bottom and leave a reply.
The post written by Toronto Water can be found below.
What homeowners need to know about basement flooding
Over the past three decades, Toronto has been experiencing more severe and sudden storms, with higher rainfall. Most recently, on July 15, 2012, Toronto experienced a severe rainstorm that resulted in many basement flooding complaints reported by residents.
During heavy rainstorms, basements can flood for a number of reasons. Water can enter your basement through a leak in your home's foundation, basement windows, or doors. Poor lot drainage, overflowing eavestroughs and even leaking or plugged downspouts can also result in water making its way into your home. While the City's sewer system can handle most storms, the most severe storms can overload the sewer system causing streets to flood and excess water to pool in low-lying areas. Such storms can also force wastewater back through the sewer pipes where it can enter homes through floor drains or other plumbing fixtures in the basement.
The City of Toronto is taking action to help prevent basement flooding. The City has a Basement Flooding Protection Program and is undertaking studies in 32 chronic basement flooding areas across the city to investigate and recommend solutions to help prevent basement flooding. Since 2009, the City has been implementing sewer infrastructure improvements recommended in the basement flooding studies such as upgrades to the sewers. Many projects have already been completed and the City has dedicated $743 million over the next ten years to implement future basement flooding protection projects across the city.
In the meantime, the City also undertakes regular inspections, cleaning, and maintenance of over 10,000 kilometres of sewer pipes to ensure that the system operates smoothly. The City also has a by-law requiring homeowners to disconnect their home's downspout from the sewer system, where feasible.
While the City of Toronto is working to make improvements to its complex system of underground pipes, sewers and catchbasins, these improvements alone cannot completely protect a home from basement flooding. It is important that property owners take actions to reduce the risk of basement flooding on their property. To help property owners, the City has a Basement Flooding Protection Subsidy Program, which offers a financial subsidy to homeowners of up to $3,200 per property to install flood protection devices including a back-water valve, a sump pump, and pipe severance and capping of the home's storm sewer or external weeping tile connection.
In fact, there are a number of actions that property owners can take to help reduce the risk of basement flooding:
Disconnect your downspouts so that rain and melted snow can be absorbed into the ground and not added to an overloaded sewer system. Make sure your disconnected downspouts are 1.8 metres (six feet) from your basement walls and are draining properly.
Reduce the use of household water appliances such as washing machines and dishwashers during heavy rainfall.
Consider installing a backwater valve, as well other flood protection devices, within your drainage system to prevent the sewer from backing up into your basement. The City's Basement Flooding Protection Subsidy offers homeowners up to $1,250 per household to install a backwater valve.
Regularly clear your eavestroughs and downspouts of leaves and other debris.
Be sure the grading around your home drains water away from all exterior walls and does not affect neighbouring properties.
Have a plumber/drain specialist inspect your home's flood protection devices, such as backwater valves, sump pumps, drains or caps, to ensure they're working properly.
Use soft-surface landscaping that allows stormwater to soak into the ground; for example, increased sodded areas and porous pavement.
Do not pour grease down the drain or flush objects down the toilet as this can block your sewer connection.
Redirect the foundation drains (weeping tile system) to the storm sewer. (In older homes, the system may be connected to the sanitary sewer.) A better environmental option is to pump the water to ground level for drainage away from the building wall. A sump pump would be needed to bring water to ground level.
If your home experiences basement flooding, call 311 immediately, 24 hours a day, seven days a week.  Call your insurance company as soon as possible and report property damage caused by the flooding, and be mindful of health and safety when cleaning up your flooded basement.
To find out more about basement flooding prevention, the Basement Flooding Subsidy Protection Program, and what to do if your basement floods, visit the City of Toronto's website at www.toronto.ca/water/basement_flooding.