Aioli Bistro: A hidden gem
By Regina McKenzie
In one of the run down strip malls along Kingston Road, is a tiny jewel of a restaurant, hidden behind a curtain of ivy.
Curiosity is what brought me to Aioli Bistro's front door first during the summer.
As I passed by on a walk, poked my nose in the front door and saw a restaurant full of patrons, with four more would be diners waiting on the stools near the front.
That's a sign of a good restaurant. So my husband and I recently paid Aioli's our first visit.
Aioli is a French sauce made of garlic, olive oil, lemon juice and egg yolks. And that is the first thing that gets placed on your table, along with fresh-out-of -the-oven- bread made by the restaurant owner and chef  Henri  Maroukian.
Why here?
Why here? I asked. He said he looked for a long time for the right location to open a French restaurant – not too big he added.
There is seating for 20, making it small and cozy. He's even moved to the Birch Cliff area "to be closer to work".
On the walls are photographs from Provence and records of what must be his favoured singer  Mireille Mathieu.
Food was delicious
The food was delicious and well made. We selected the prix fixe dinner, savouring first that delicious sauce, followed by delicious leek and potato soup, then with fillet of sole with potatoes, broccoli and carrots.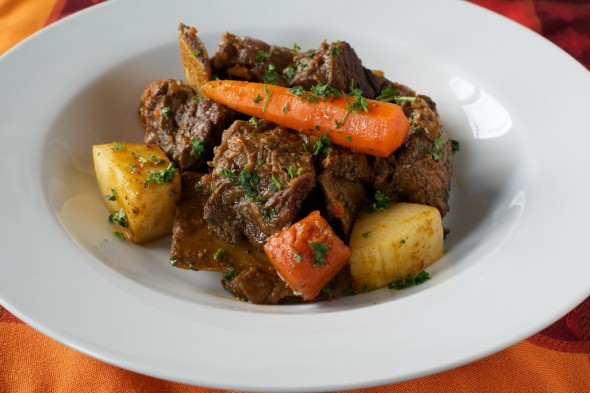 Our dinner was served by Henri himself. How many restaurants offer that?  And it was clear that he wanted us to enjoy his creations.
We asked him to surprise us with the desert of his choice.   I was given the Creme brule with honey and lavender. Small but delicious. My husband ended up with the better choice, the Creme brule with walnuts.
The total dinner with one glass of wine (for me) came to $57 dollars.
What surprised us the most is that here in the middle of a somewhat decrepit retail zone offering used men's clothing and palm readings, is this oasis of European civility.
And yes by the time we finished, the place was full and yes, there were other Birch Cliff couples sitting on those stools waiting for a table.
Would we go back again? Certainly. We would even invite friends. Henri also hosts parties at Aioli. If only the rest of the strip mall was as inviting as Aioli.
*totally independent review -reviewer paid for her own meal
Aioli Bistro
2446 Kingston Road, just west of Midland
647-748-0064