Former TD Bank building sold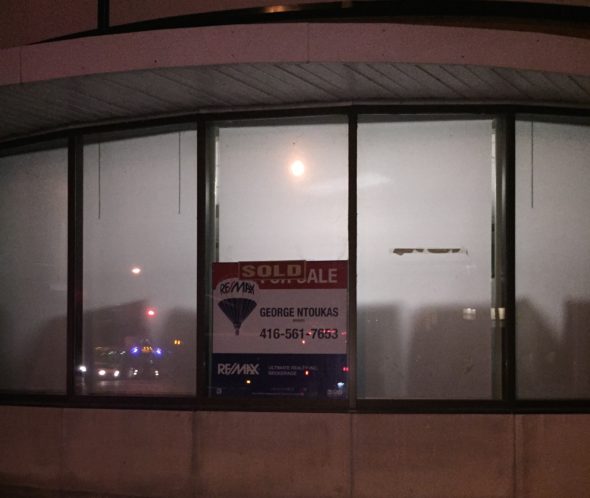 By Hedy Korbee
The former TD Canada Trust building at the corner of Warden Ave. and Kingston Rd. has been sold.
Not only is there a "SOLD" sign in the window but the interior of the former bank is full of office furniture and untidy moving boxes.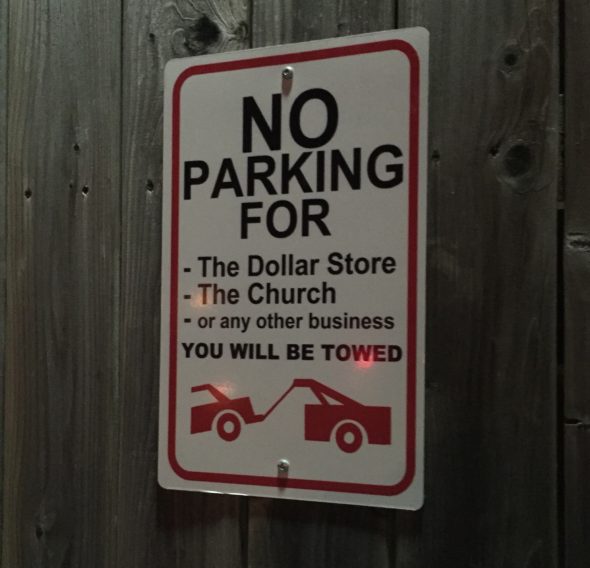 There are also ominous "No Parking" signs in the back parking lot on Warden, warning that anyone who parks in the lot in order to go to church or the Dollarama will have their car towed.
Details are difficult to come by at time of writing on Friday night but there's a sign taped to the back door of the building written by Sally Talbot, who distributes a 'Neighbourhood Watch' newsletter, indicating that the building has been sold to a lawyer.
In an interview with Birch Cliff News, Talbot, who has lived in Birch Cliff for 30 years, said she learned of the sale when she saw movers in the parking lot earlier this week and approached the general contractor at the site about the no parking signs.
"He said well, my client has bought the bank for $1.5 million and doesn't want anybody parking here," Talbot said.  "So I said OK, I understand that.  But he was very aggressive and angry. Big time angry.  I said why are you so angry and being angry with me?  And he said this is none of your business."
Talbot said that once the contractor "softened up" he explained that he was threatened by a man in the parking lot when he put up the signs.
According to Talbot the contractor had this to say about the man who threatened him: "He not only said "watch your back" but he called my business and he threatened me."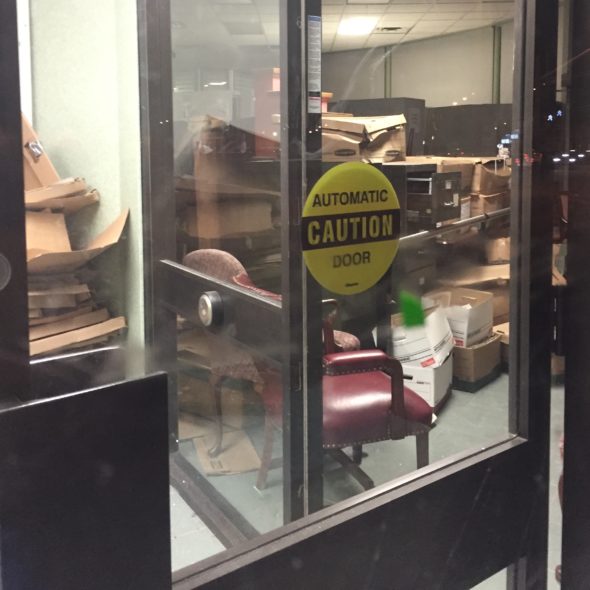 Talbot said the contractor told her that this is the second bank that the lawyer has purchased in six months.
Talbot also said she finds it odd that the former bank is already full of furniture when it's clear that renovations need to be done.
"The place has had no renovations. So the bank moved out, took their teller stations out of there and it's bare concrete and linoleum and patches.  Why did they move everything in if there has to be construction?"
No parking for the church or food bank
Talbot is concerned about the no parking signs, especially the impact on the Bluffs Food Bank across the street.
"You would have thought that somebody moving in would want business from the community because apparently he's a real estate lawyer and you would think he would want to have good relations with the community and I want your business, thank you.  But that's not what I'm seeing."
Birch Cliff News does not have substantiated information at this time about the new owner of the building but one of the filing cabinets inside is clearly marked "Vernon Purcell Files".
There is a lawyer in East York by the name of Vernon Purcell but calls to his phone number did not go through because there's no answering machine.
Sally Talbot has been distributing her neighbourhood Watch newsletter for about seven years and mostly disseminates information on local crime that she has verified with Toronto Police. If you would like to subscribe you can email her at stalbot@sympatico.ca.
This is the second big story about the Birch Cliff strip in a week.   On Fri. Jan. 27 news broke that a developer has purchased the eastern portion of the strip mall between Warden and Manderley and plans to build 120-unit mid-rise condo.
Scroll down for more photos.