Four car crashes on Eastwood Ave.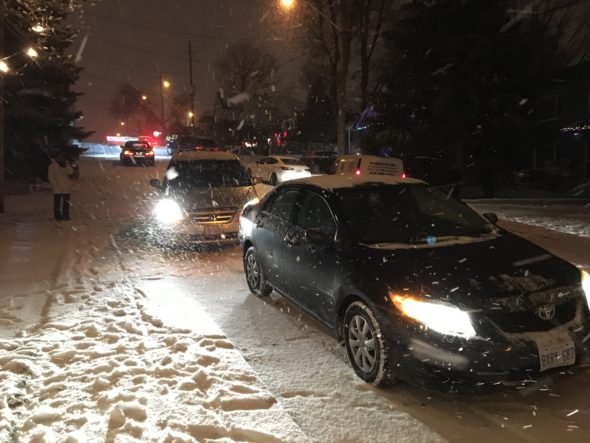 There were four car accidents in a 20-minute period on Eastwood Ave. on Monday night, caused by rush hour commuters ignoring sheet ice on the first snowfall of the year and racing up the hill to Danforth Ave.
Eastwood is a street that is notorious as a short cut for commuters travelling to points further east.
At around 5pm, one-by-one, cars turned north on Eastwood from Hollis Ave., gunned the gas pedal, and then failed to make it up the hill only to slide back down.
On the way down the hill they slid into parked cars and other cars that had already been in accidents.
"It's mass chaos. Everybody sliding out of control.  I've never seen anything like this," said Ken Jones, an Eastwood resident.  "There's too many car accidents to count."
One of the accident victims was injured, complaining of chest pains, and was treated by paramedics who arrived on the scene along with a fire truck from the fire station at the top of Eastwood.
It's not clear if the man was hurt during the accident or when he slipped and fell on the ice after getting out of his car.
A man driving a company car that was hit three times rushed to safety on a nearby front lawn.
"I couldn't stay inside, it's definitely not safe," said the man, who asked that his name not be used.
Residents of Eastwood poured into the streets to help and tried to stop more people from coming up the hill.
Some commuters chose to ignore the warnings even though there were cars strewn all over the road and got into accidents themselves.
Other short cutters argued with Eastwood residents who begged them not to go up the hill.
The fire department has parked a truck at the top of Eastwood to prevent cars from travelling down the hill.
Individual firefighters are physically blocking the intersection of Eastwood and Hollis to prevent cars from entering the street.
There was a similar accident at Hollis and Kalmar Ave., another favourite shortcut for rush hour commuters, as well as an accident at Warden and Danforth.