From farmland to suburbia
Have you ever wondered when your house was built and what it might have cost back in the day when Birch Cliff was first being settled?
Well, now you can get an idea thanks to an advertisement that ran in the Toronto Daily Star on October 12, 1912.
It's an ad for a new subdivision called Kalmar Heights offering housing lots for sale on Kalmar Ave. and Eastwood Ave., between Kingston Rd. and the CNR tracks, for $12 to $15 per foot.
The ad, complete with a map, shows lots divided into 25 and 30-foot frontages and stipulates that only one house can be built per lot at a cost of $1,000 to $2,000.
Each lot owner built their own home on the land based on their personal financial circumstances, which explains why all the houses today on Kalmar and Eastwood are different.
By comparison, many bungalows on Manderley Dr. and Dunnington Dr. are of similar construction because they were built by a developer after World War II for returning veterans.
Early developer Cecil White
The Kalmar Heights development was sold by Cecil White, the owner of White & Co. Real Estate, who played a key role in transforming parts of Scarborough from farmland into suburbia.
Author Jane Fairburn, in her book Along the Shore: Rediscovering Toronto's Waterfront Heritage, says White was "primarily responsible for the establishment of the early infrastructure – roads, waterways, and electric systems – that enabled suburban development to begin in the Scarborough Bluffs and farther east, at the mouth of the Rouge River."
According to Fairburn, the first suburbanites in Scarborough were looking to escape downtown crowds and pollution and were lured to the suburbs by inexpensive land and the radial car.
"…it was here, in the radial-serviced Birch Cliff area, that Cecil White started his early Scarborough colonization, aimed squarely at the working man and the developing middle class.  Beyond the opportunities for leisure, the radial opened up, for the first time, the possibility of living in the township and working in the city."
The new developments were responsible for increasing the population of Birch Cliff from around 200 people in 1908 when the post office was established at A.H. Mitchell's store to 3,600 by the late 1920s.
Development of Kingsbury Park
Another advertisement in the Toronto Star from Oct. 14, 1910 sheds light on the pattern of development of Kingsbury Cres., Lakeside Ave. and Birchcliff Ave.
The developer, R.B. Rice and Sons of 16 Victoria St, offered Kingsbury Park as "the choicest properties for fine summer and winter homes"  located "a little east of Hunt Club and one mile east of City Limits."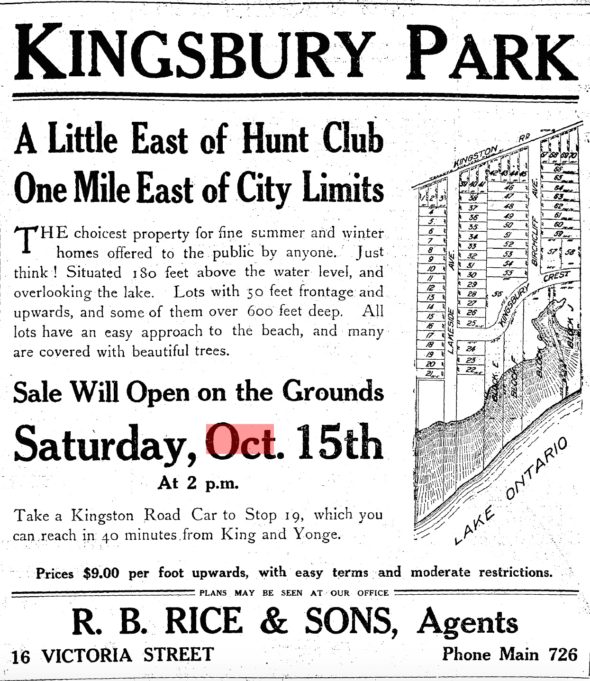 "Just think! Situated 180 feet above the water level , and overlooking the look. Lots with 50 feet frontage and upwards, and some of them over 600 feet deep," the ad states.
Kingsbury Park was quite a grand development for its time and was built with wide boulevards and stone-pillared entrances, according to the Scarborough Historical Society.
Interestingly, the ad says that all lots have "an easy approach to the beach", which is no doubt a reference to the stairs that were built at the foot of Lakeside Ave. to help local residents get to the beach.
It's hard to imagine that Birch Cliff was once a popular swimming spot at a time before erosion took its toll on the Scarborough Bluffs.
In "Along the Shore", Fairburn writes that in response to demand for beach access, the Township of Scarborough started building steps to Lake Ontario at Fallingbrook Rd. around 1901, then Lakeside and finally near Glen Everest Dr. in 1921.
"According to Jack Cavanagh, in "Parks in Scarborough Remembered," the township established lifeguard facilities at these locations in 1929 in response to "the hundreds of children and adults who reportedly spent many hours a week enjoying the beaches," Fairburn writes.
The photograph below is believed to be the former steps at the foot of Lakeside Ave., but if anyone knows differently please let us know.

This is article is part of a community "Today in History" series commemorating the 100th anniversary celebration of Birch Cliff Public School. To see other articles click here: 1927, 1929, 1935, 1935, 1951, 1993, 1796, 1991, 1983, 1988, 1985, 1930, 1996, 1926, 1918, 1999, 1992.