Hope fades for driving range
It looks like golfers in east Toronto will have to find another place to practice their swings.
The owners of the Beach Fairway Golf Range made a last-ditch effort to avoid closure by meeting last week with Build Toronto, as well as Build board member Doug Ford (the mayor's brother) and Ward 36 councillor Gary Crawford.
No movement in talks
Owner Kim Holman said Build executives and the politicians were adamant that the driving range needs to close in October in order to make way for a housing and retail development at Victoria Park and Gerrard.
"It's not over until it's over, but it's really not looking good. At this point I think we really have to hand it off to the public and say if you want the driving range to stay, you've got to pick your phone up and call the mayor," Holman said.
Holman and her husband Brian Jacobsen were supposed to have a separate meeting the same day with Mayor Rob Ford, but the meeting was postponed indefinitely due to the mayor's preoccupation with the shooting at Danzig Street.
Petition
More than 5,000 people, mostly golfers, have signed a petition to keep the range open, which Holman describes as the last green-grass practice facility in Toronto.   Approximately 60,000 people visit the driving range every year, including 5,700 visits from children and 2,500 from seniors.
Holman said the councillors and Build Toronto execs made it clear they understand the need for the driving range and are trying to help find an alternate property.  To facilitate that, they have arranged for her to meet with the general manager of the city's Economic Development and Culture Division Mike Williams.
But Holman is skeptical:  "Personally, I just don't think there are eight acres in the city of Toronto that would facilitate our group of customers."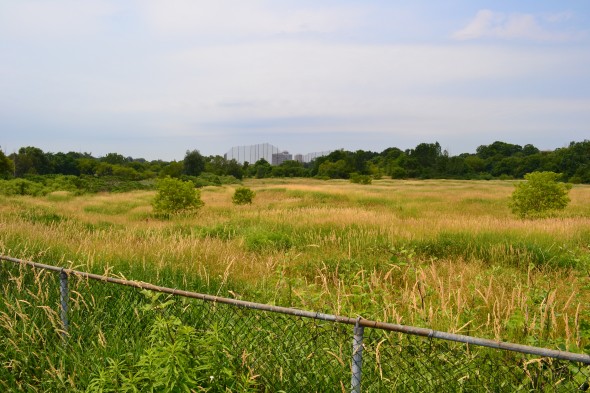 Controversial history
The driving range has been in operation since 1999 and sits on the corner of a 20-hectare parcel of land known as The Quarry.  Development of the Quarry has been a source of controversy in Birch Cliff for approximately forty years because the land was a former unregulated dump and is contaminated.  Over the years local residents have also fought developers over density.
Build Toronto, the city's arms-length development agency, and the private developer Conservatory Group are planning separate developments on the land and both are controversial.  The Conservatory Group is headed to the OMB once again over its plan to construct high rise towers on the eastern part of the Quarry near Gerrard and Clonmore.  Build Toronto will be unveiling a plan to the community in September that it describes as "well designed" low density housing and retail.
Big box retail?
Holman is raising a red flag, however, about the nature of the retail development that is scheduled to be built where the driving range now stands.  She said that Build Toronto told her last week the retail operation will generate 300 local jobs, which leads her to believe it will be a big box development.