Impressive Cliffside clean-up

By Brett McGarry
Community leaders, businesses and residents of Cliffside pitched in on Saturday for a Community Clean-up day to address visible neglect along Kingston Rd. in an impressive show of community spirit commemorating Earth Day.
The initiative was organized by the office of Ward 36 Councillor Gary Crawford to clean up trash and promote cooperation and community pride.
"It is important that we come together and work together and support each other in the regeneration of our community. When we support cleanliness in our environment we build pride in our community and that is very important," said Crawford, who rolled up his sleeves with everybody else.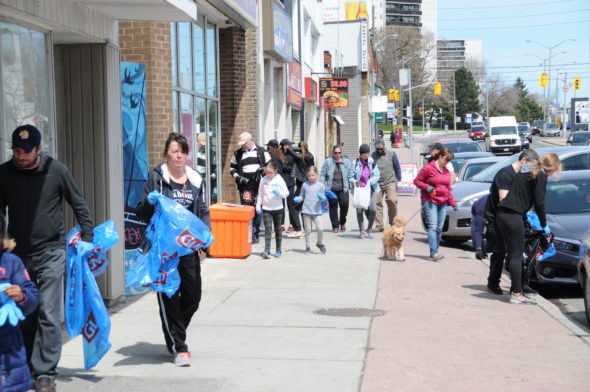 After loading up on water and garbage bags outside of Resistance Fitness at the corner of Midland Ave. and Kingston Rd., the group of roughly 30 people began working their way west.
Many got to their hands and knees, young and old alike, to scrape up cigarette butts, coffee cups and free-floating litter that had built up on the street.
Cyclists and pedestrians shouted thanks and support as the large group moved along Kingston Rd.
Others obliviously threw still smoking butts in the street, showing there is still work to be done.
"It's about honoring and respecting our community as well as our environment. Often we lead such busy lives we don't even notice the state out streets can get in so when we bring people together like this everyone starts to care," said Crawford.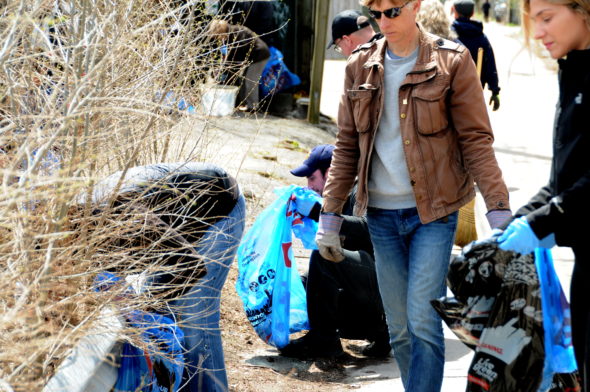 As the group began to clean a back alley just off of Kingston the councilor saw first hand the sort of decay affecting parts of Kingston Rd.  – a nearly empty closed-in lot with garbage strewn across the lawn, bramble growing over the front fence and a back fence bowing out under the pressure of a collapsing structure tagged with crude graffiti.
Once a house, the structure on the neglected lot looked as though it was on the verge of being condemned. Some volunteers mention how vagrants have lived there and simply how dangerous it is to have a collapsing structure in their community.
The lot stands in contrast to recent positive developments in Cliffside, including the new condo development "Haven on the Bluffs" and the soon-to-open Starbucks.

An initiative for positive change
Dr. Gerard Arbor has been a Cliffside resident and practicing chiropractor at Bluffs Chiropractic for over two decades.
He's also become a strong advocate for progress on Kingston Road through his Facebook page Kingston Road in the Bluffs.
As an active member of the community he said the cleanup initiative is a good start to positive change.
"Kingston Rd. needs to be a better representation of our community. If we are going to enroll the help of our community, we need to be out here ourselves to gain that kind of support," said Arbor.
Local residents Jeff and Beverly McCartney stressed the importance of community involvement and supporting local businesses.
"Scarborough as a whole can get a bad reputation but it really has potential. Events like these send a message and allows residents to feel more responsible. You can't let your neighborhood decline," said Jeff McCartney.
Many local business owners from Kingston Road pitched in with the clean up including: Singha Law Professional Corp, Rod & Joe's No Frills, Tara Inn, Chayanika Dutta Law Office, Resistance Fitness, Victorian Monkey and Bluffs Chiropractic.
"It's great to be here and a part of this group. We came from downtown and it's starting to become really impersonal there so it's nice to be a part of a community that cares," said Anitta Upenieks, part owner of one of the newest businesses in Cliffside, the Victorian Monkey bar.
Josh Prentice of Chayanika Dutta Law Office, who has lived in the area since he was in high school, is hopeful that community building activities can help produce a positive environment.
"This is all about trying to making changes and building relationships. We want to build a neighborhood that has an exciting and positive energy," said Prentice.
Though the effort of the volunteers was valiant, there is still more room for improvement in Cliffside and all along Kingston Rd.
The number of people who came out  is symbolic of the change being fostered and relationships being forged by those willing to put in the extra effort to create a welcoming community where residents and local businesses alike can prosper.