Jatujak: Among the best in TO
By Christina Mulherin
In just a few short years Jatujak has grown from a popular Birch Cliff eatery to one of the best Thai restaurants in Toronto, according to blogTO.
In fact, Jatujak has made the list twice, for Best Thai Restaurant in December 2016 and Best Pad Thai this past March.
The recognition has attracted a lot of attention and co-owner Phanom "Patrick" Suksaen said customers are now coming from far and wide for a taste of Jatujak.
"People from Markham and Oshawa are travelling all the way here since the blogto post," he said.
Pleasing palates since 2013
Jatujak first opened its doors at 1466 Kingston Rd. between Warden and Manderley in the spring of 2013.
It's a cozy location that is most popular for takeout and delivery with approximately 30 deliveries a day.   They also offer delivery service through ÜberEats.
Thanks to the restaurant's growing popularity, Jatujak was able to expand.
In 2015, they opened their second restaurant at 1744 Victoria Park Ave., south of Lawrence, offering a larger dining area for customers to eat in.
Named after Bangkok market
Jatujak is named after the largest weekend market in the world, located in Bangkok, which offers everything from clothing to household items and food.
The restaurant caters to those looking for an authentic, quality Thai food experience at a reasonable price. They serve street style Thai food, which Suksaen describes as a very popular in Thailand.
"There are too many Thai food restaurants in Toronto so we chose to focus on street style Thai food. Which means it's not like hotel, first class food. It's inexpensive but still good quality," says Suksaen.
Along with their renowned Pad Thai, other popular menu items include the mango sticky rice —a dessert made with glutinous rice, fresh mango and coconut milk, the Khao soi— egg noodles with yellow curry, lime, coleslaw and onion, chicken or beef, and Thai iced tea.
With a background in engineering, Suksaen moved to Canada from Thailand in 2008 and now owns a number of restaurants across the city in addition to Jatujak.
He co-owns the Jatujak brand with Suwaree Sakhanpham, a long-time friend from Thailand who also immigrated to Toronto.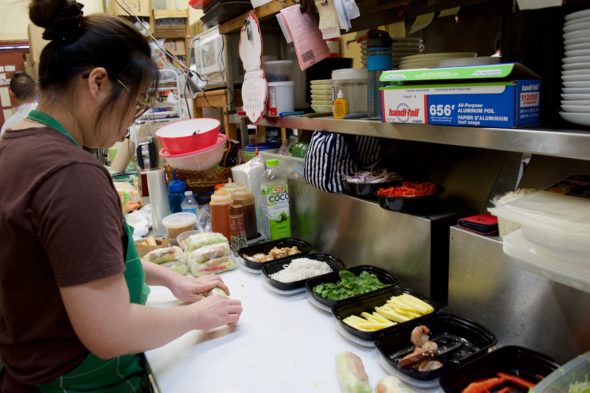 Sakhanpham is the chef at the Victoria Park location. She had mastered the art of traditional street style Thai cuisine so Suksaen asked her to collaborate; he would promote the business with his I.T. skills and with her undeniably delicious dishes, they figured there was no way the company wouldn't be a success.
Having a background in information technology has proved to be very beneficial for Suksaen and his business.
In addition to a website and an active social media presence, there's also an application for mobile phones. Customers can place their orders straight from the app.
Suksaen says he hopes to continue to expand and believes the abundance of new condominiums going up all around Birch Cliff in the near future will bring in more customers and help him achieve this goal.