Kingston Rd rebuild – part 2
By Marielle Torrefranca
Bright, orange construction barrels are lighting up Kingston Road once again, as the main road's reconstruction continues between Warden Avenue and Victoria Park Avenue.
The reconstruction is the second phase of Kingston Road's makeover, and will see the removal of road structures and buried railway tracks in order to rebuild roads, curbs, sidewalks and driveway aprons.
Improved streetscaping, traffic signal modifications and boulevard improvements are also on the agenda, according to the City of Toronto's official construction notice.
Construction to finish November 30
Construction began on March 17 and is expected to be completed by November 30.
The bulk of construction work will take place between 7 a.m. and 7 p.m. on weekdays, with occasional work done after hours and on weekends when needed.
Kingston Road's entire revitalization is pegged at $11.2 million in costs, according to Senior Engineer Thomas Yeung last year.
Drivers should expect delays, significantly during rush hours, as Kingston Road will be limited to one lane traffic in each direction.
Motorists urged to slow down
While bus services won't be interrupted, those taking the TTC should make time for delays and look out for regular bus stops being moved to temporary stops.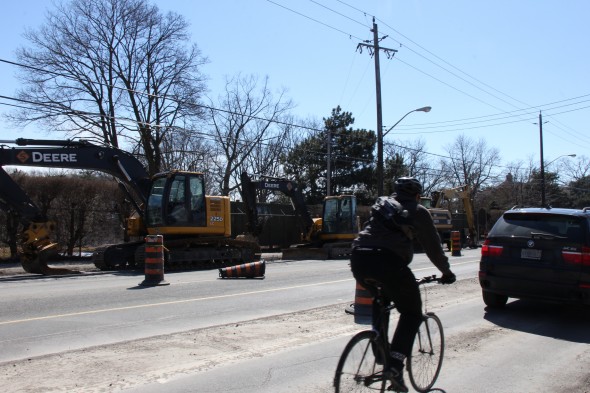 While the City notes pedestrian and traffic restrictions are necessary, Birch Cliff resident Emma Watson's concern is safety.
"I take the bus, and my bus stop is in the middle of the road," said Watson, 20, who lives just off Kingston Road and Victoria Park. "So, I have to walk into traffic to get on the bus."
Toronto Police urges drivers to take extra care and drive slower than usual, especially with pedestrians crossing through the construction zone.
"Any time there's road rehabilitation, you have to keep your speeds down," said Constable Clinton Stibbe. "Should [a pedestrian] step out from behind an object, you'll have time to slow down."
Pedestrian warning 
Pedestrians are reminded to walk within the temporary fences and barriers to ensure their own safety, said Ward 36 Councillor Gary Crawford.
"You need to be patient and be really wary and careful in and around [the construction zone] when you're walking," he said. "We will be having police services monitoring as we did last year. I think for both the pedestrians' and drivers' perspective, there is construction and you need to take extra precautions at all times."
As Kingston Road is a major thoroughfare in Birch Cliff, the route's streetscaping and beautifications are an exciting part of the project.
Trees will be planted to help create a more visually attractive area.
"We want to really bring out the street to not only make it functional, but a very attractive place to look at and walk around," said Councillor Crawford.
Work will also be done in the boulevards in front of homes and commercial properties. Owners affected by this construction are to remove any privately owned items off the boulevard to avoid any damage.
Asbestos near Haig Avenue
Asbestos is present in the asphalt on Haig Avenue, just south of Kingston Road. The material was commonly used in asphalt mixes in the 1970s and early 1980s to improve asphalt structure. However, its replacement is now part of the City's maintenance protocol.
Asbestos is commonly known for its association with health issues, but testing and air quality monitoring confirms the asbestos in the asphalt mix is tightly bonded and won't separate  or become airborne during asphalt removal.
Workers are taking precautionary measures and following removal and disposal procedures set by the Ministry of Labour.
Phase One was success
This section's revitalization is a follow-up after last year's reconstruction between Birchmount Road and Warden, which started last April and finished ahead of schedule in September.
Last year's reconstruction resulted in watermain replacement, sanitary and storm sewer construction and overall better road quality.
The finished product is a shining reminder of what's to come after the inconveniences of this year's construction.
"It seems forever away," said Watson. "It's exciting that drivers will have smoother roads, because right now it's like driving through a war zone, but it seems like it'll never come."
Possibly finished ahead of schedule?
As for whether the project will finish ahead of schedule again, Crawford said he's hopeful.
"They finished almost two months ahead of schedule [last year], and a lot of that had to do with the conditions being really good," he said. "They started a little later [this year] because of the colder weather, but, yes, I think they will get it done as quickly as possible."