Makeover for Salon O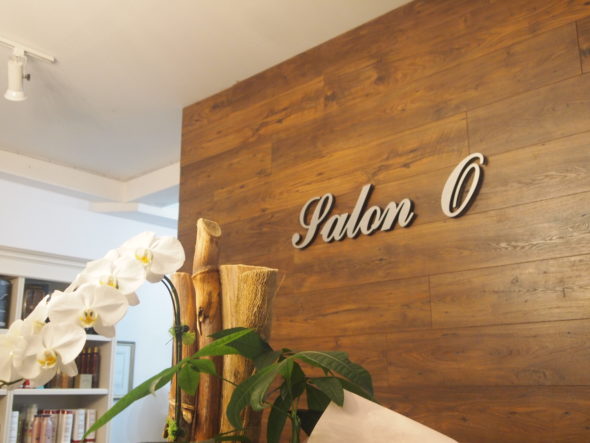 By Hannah Korbee
An old favourite on Kingston Rd. has found new life in a fresh space.
For the past seven years, Salon O has sat on the northeast section of Birchcliff Ave. and Kingston Rd. near the popular Birchcliff Coffee Bar and The House and Garden Co.
Recently the salon has had a change in scenery to 1436 Kingston Rd, just west of Warden, after switching storefronts with Bath City.
"We were not prepared for the response," said Karen Azucar, stylist, make-up artist and marketing manager for Salon O. "We knew the location was going to get us a bit more attention, because of the intersection we're at, there's more traffic and storefronts. But to see it in action has just been – wow!"
The move to a new location called for a makeover.
The once cozy nook, defined by plush couches and heavy curtains, has been transformed. The larger space exudes a loftier atmosphere.
The couches have been replaced with a modern wood bar offering a selection of glossy magazines.  The curtains are no longer, and now the Salon boasts a large open window, making it easy to view the new display of luxurious Kevin Murphy products. Despite all these changes, Salon O maintains its famous centerpiece: the chandelier.
"This was an opportunity for Olga (stylist and owner) to build her dream salon. She was able to design it and her husband built it in only three weeks," Azucar said.
Last month Salon O hosted a welcoming party for friends, family and clients to check out the new space.
Among the attendees was Jordan Comerford, co-owner of Fearless Fitness across the street.
"As soon as the salon popped up across the street I came in to introduce myself and made an appointment to get my highlights done. I was so impressed with Karen's work and funnily enough, she's now a client of mine, and has just started one of our programs," Comerford said.
With the increase in new clients, Salon O has welcomed a new stylist, Sue Bonfa.
"Sue joined us as an independent stylist over a year ago and brought her loyal client base from when she had her own salon in the Beaches.  She came when we were in the old location and stuck with us through the transition so we're really happy about that," Azucar said.
The team has also recently welcomed a grade 11 co-op student from Birchmount Collegiate Institute to help with the workload. "She's very eager and excited to be here. So hopefully, I can train her to be the best assistant possible."
However, even with the surmounting attention, Salon O is still invested with their role as a part of the Kingston Rd strip, and furthermore, the Birch Cliff community.
"Our Birch Cliff client base is incredibly important to us, and was a huge factor in why we moved to the new location," Azucar said.
Linda Starr, a long-time client and Birch Cliff resident, attended the open house and said she comes to Salon O every week.
"Not only do I appreciate that they take pride and care in the aesthetics of their space, I love that they are proactive about meeting their neighbours and creating long lasting client relationships that can grow and flourish over the years," Starr said.
Salon O is now currently looking for experienced stylists to rent chairs with full or partial client base.
You can follow Salon O on Facebook: https://www.facebook.com/salonotoronto/
Instagram: @salon_o_toronto
Snapchat: SalonOToronto