New road safety measures for Birch Cliff

By Hedy Korbee
Big changes could be in store to improve road safety in Birch Cliff.
Several new measures to slow traffic and save lives were discussed at a meeting at St. Nicholas Church Thursday night including reducing the speed limit on Kingston Rd. to 40 kph, installing a crossing guard at Warden Ave. and Freeman St. and improving safety around Birch Cliff Public School.
The meeting was hosted by Ward 36 councillor Gary Crawford in response to the tragic hit-and-run accident on Dec. 21 that killed 40-year old single mother Karla Groten, but dealt with many other traffic concerns that have been bubbling in the community for years.
There was a sense of purpose conveyed at the meeting and the overall tone left many of the approximately 40 people who attended with the impression that change is actually coming.
The sense of optimism came not just from the commitment of Councillor Crawford, who opened the gathering with a moment of silence for Karla, but also from the attendance of Myles Currie, the new director of Scarborough Transportation Services.
Currie is the former director of the City of Toronto's Traffic Management Centre and was responsible for the development of Vision Zero, a relatively new plan to reduce traffic fatalities in the city to zero.
He told the audience that as soon as he arrived at his new job in Scarborough before the holidays he asked to see the data on Kingston Rd. and has been analyzing it ever since.
His presentation was proactive, dealing with many traffic concerns in the neighbourhood before they were raised by community members who were in attendance.
Kingston Road
Currie told the meeting his office will investigate the speed limit on Kingston Rd. between Victoria Park Ave. and Birchmount Rd. and implied it will be reduced to 40 kilometres per hour from the current 50 kph.
He mentioned the possibility of lowering the speed several times, saying he's "not sure if 50 kilometres per hour is the appropriate speed" and "40 kph may be the thing to do".
One man complained that many motorists drive 60 to 80 kph on Kingston Rd. and was upset that signs advising motorists of the current 50 kph speed limit are sadly lacking.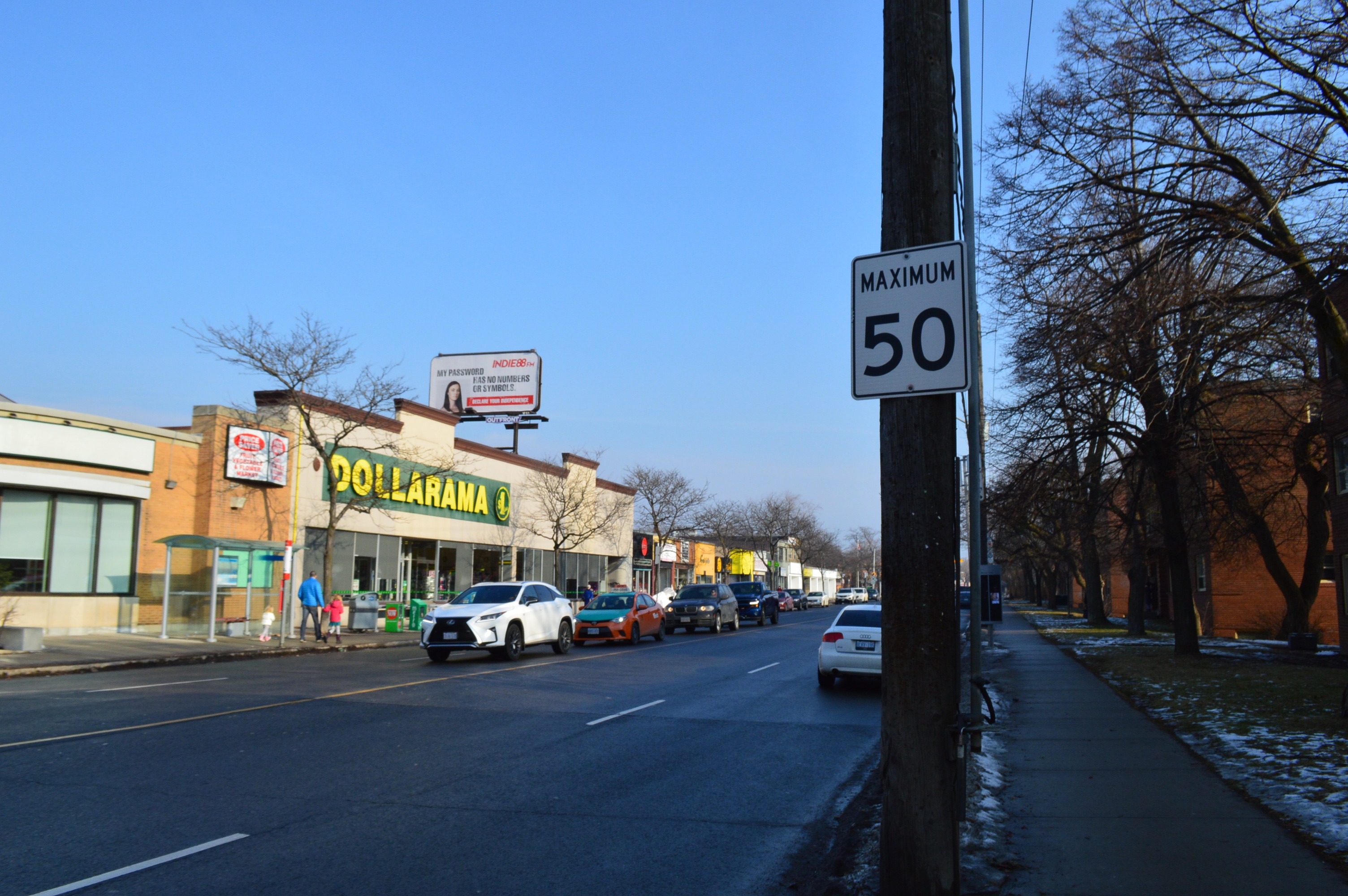 Currently, there are no speed limit signs at all on eastbound Kingston Rd. between Victoria Park and Warden.
There is one sign just after Warden and another one at Lakeside.  On westbound Kingston Rd. there is one sign just before Birchmount and another at Avalon.
"I just want to know at this point what's the timeline to just put up some speed signs so people are aware that it's a 50 zone. I love the thought of putting it down to 40. I would welcome that. But in the meantime let's at least let people know it's 50 and not 60 or what they're doing, 80."
Crawford said he will raise the issue at the next Community Council meeting in April and said he's confident the decision will be positive.  He said he will expedite the issue in order to get signage posted this spring.
Another possibility for improved safety on Kingston Rd. includes the addition of "zebra markings" on side streets next to Kingston Rd. that don't have stoplights.
Zebra or ladder markings are painted lines on the road that are usually installed at crosswalks signalized intersections. They are reflective and can be seen at night.
Currie said he feels "really strongly" that installing zebra markings on side streets where pedestrians cross east to west alongside Kingston Rd. makes it obvious to motorists that they can expect to encounter pedestrians.
They also warn pedestrians not to cross just north or south of the intersection where they are more vulnerable because they are less likely to be seen.
Intersection of Kingston Rd. and Warden Ave. 
Several community members spoke about dangers at the intersection of Kingston Rd. and Warden and none more eloquently than Linda Campbell, Branch Head of Taylor Memorial Library.
"We watch children almost get hit. We watch people trying to cross the road, they can't even get halfway. Yesterday I was leaving work at 6:10pm from East Avenue. We watched the light and it was yellow. The car, he just tore right across made the left hand turn and if anybody had been crossing the street they would have died. It's that bad. I was there the day that (Karla) was hit. We watched it. It's the worst experience ever. I mean like you hear the horns, you hear the squeal and all you do is wait for that bang. I'm really worried it's going to happen again."
There have been 42 collisions at Kingston Rd. and Warden Ave. over the last seven years, according to police.  Seven of these accidents involved pedestrians and four of them involved vehicles travelling south on Warden and turning left onto Kingston Rd.
Crawford said the city did a study at Kingston and Warden to see if the intersection qualified for a red light camera but it didn't meet the criteria.
Currie described the criteria as "seven collisions that would be deemed preventable, meaning a right angle collision, someone running a red, T-boning somebody per direction over a five-year period".
Currie said the largest number of such accidents at Kingston and Warden was three per direction and there are other intersections with far more than seven.
He added that there are many requests for red light cameras and the city doesn't have the resources to fund them all, although they have doubled the number of cameras this year, adding an extra 150 to the 75 that were already in place.
Despite that, Crawford said the decision on whether to place a camera at Kingston and Warden is being reconsidered.
"I don't want to suggest that it was because of (Karla's) accident but I think they're looking now at putting that through the process again to see whether or not that would work," Crawford said.
Currie added that his department will look at the data again because it may have changed since the last study was done.
More time to cross intersection
Currie also said he wants to look at the amount of time that pedestrians are given to cross the street at Kingston and Warden. He said the number of children and seniors in Birch Cliff could mean the average signal time might not be long enough.
The traffic department will also study installing an advanced green for pedestrians at Kingston and Warden so they don't enter the intersection at the same time as cars, but rather start walking before cars get the green signal.
"So what we do with that is we put on the walk signals and the pedestrians get into the roadways and become a lot more visible earlier as opposed to entering the road at the same time as the cars, they're in the right away, the crosswalk so the motorist can so "Oh, there's a pedestrian" as opposed to both sort of fighting for the same space."
Several people complained about eastbound cars on Kingston Rd. trying to squeeze between the left hand turn lane at Warden and the cars parked on the right curb lane.
They included Polina Privis, owner of The Kingston Social, who has had to write off two of her cars after they were struck in front of her business and has also lost "countless mirrors".
Currie said the city can't install a dedicated left turn lane because road is about three metres too narrow but they will study whether the lane markings can be changed.
Currie said his office will also study the data on cars travelling southbound on Warden who then make a left turn onto Kingston.
Warden Ave. and Freeman St. crosswalk
Another issue that's top of mind for many Birch Cliff residents is the crosswalk on Warden Ave. at Freeman, where 4-year old Violet Graham was struck by a southbound van on Nov. 23.
Violet's mother, Amy Corcoran, started a petition for a crossing guard and addressed the meeting saying "I'll try to keep it together because every time I think about what happened, what could have been, I get a little bit upset…"  She added that she'd "heard a lot of great improvements that I think will help slow down traffic".
Crawford said the accident hit him "really hard" and he has already made a request to Toronto Police Services for a crossing guard. He told the meeting that he also spoke personally to Chief Mark Saunders about the need for a crossing guard.
Currie also implied that the speed limit on Warden between Kingston Rd. and Hollis will be reduced from 50 to 40 kph through a request to Community Council.   "It's residential, it's not at 50 kph road," he said.
Birch Cliff Public School
Another traffic concern in the neighbourhood is Birch Cliff Public School, which has implemented several measures recently to improve safety for its students.
According to Currie, the school is an "ideal location" for photo radar, which would take photographs of drivers' license plate and mail them tickets.
Last year, the Ontario government passed legislation to allow municipalities to implement "automated speed enforcement" in school zones and community safety zones but the rules and regulations are still under discussion at the city and it could take many months.
Currie said he's "really excited" about photo radar and mentioned that the technology could be mobile, allowing it to move from school to school in the ward.
Currie mentioned that he has spent time driving around Birch Cliff Public School and he's asked his team to look at the possibility of adding a stop sign at the corner of Birchcliff Ave. and Freeman, on the northeast corner of the school.
There's already an east/west stop sign on Freeman but there's nothing to stop motorists as they drive south on Birchcliff from Hollis.
"If you actually stop them just before they enter the school zone by a stop sign, they may run it and then they are subject to the laws, but the vast majority people will stop or at least roll to a stop. You're going to slow them down via stop sign before they enter into the school zone," Currie said.
The city is also implementing school safety zones that will including stencilling on the roads and large fluorescent green signs that say "School Zone, Drive Slowly".  Currie said school safety zones will also have "feedback signs" that show drivers the regulatory speed and also tell them how fast they are driving.
Hollis Avenue
Councillor Crawford requested a stop sign for Hollis Ave. at Eastwood to slow down traffic on Hollis and deter speeders taking a shortcut on Eastwood.
Crawford said the stop sign was approved last week by Community Council.  Technically, Crawford said the intersection didn't meet the criteria for a stop sign but he had conversations with city staff who agreed with him that it would be appropriate.
Enforcement issues
A number of community members talked about the need for enforcement and Toronto Police Sergeant David Ziska admitted that "the reality is at any typical time it's zero".
He explained that there used to be divisional traffic enforcement officers assigned to 41 Division who responded to collisions and did enforcement when they weren't tied up with accidents.  Those officers were redeployed when the City of Toronto centralized traffic services and it's had an impact, along with the advent of collision reporting centres.
He did say that Birch Cliff / Cliffside accounted for 7 percent of all the collisions in 41 Division over a  three-year period but received approximately 11 percent of traffic enforcement services.
In response to a question regarding the lack of resources for enforcement, Currie said that it's possible that Kingston Rd. could be designated a community safety zone or a school safety zone due to its proximity to the school, which would allow for photo radar.