New single: To The Top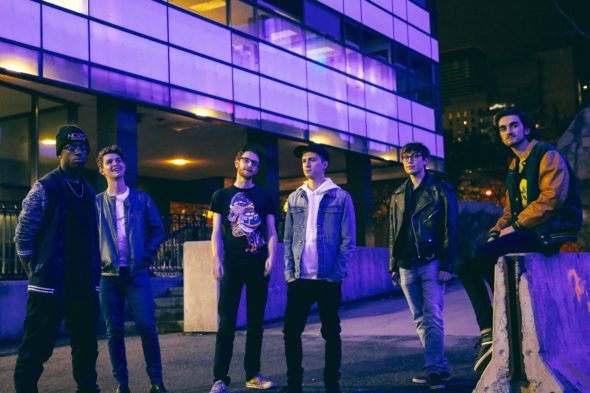 Birch Cliff musician Sam Pomanti and his band Moonhead have released their latest single "To The Top" and that's exactly where the band could be headed if their talent, hard work and good luck continue to align.
"To The Top" was written and arranged by Pomanti, 21, who also plays keyboard and sings lead vocals.
"We were going for an '80s pop song vibe and we're really blending the electronic with real instruments so we recorded the horns separate and then I did the vocals at the end and I'm very happy with what we got," Pomanti said.
The release of "To The Top" caps quite a successful month for the seven-man Toronto pop funk band.
The new single comes just days after they were featured as Dr. Frank-N-Furter's house band in FOX TV's remake of The Rocky Horror Picture Show, directed by Kenny Ortega of High School Musical fame.
"It was wild on so many levels, not only because of the film set but just the nature of the movie itself. " Pomanti said of his film debut.  "The sets were beautiful and the choreographed dances with dancers from all across the continent really blew us away.  And how professional everyone was and how well it was pulled together."
And just last week Moonhead's song "Template" was featured on an episode of CBC's new sitcom Kim's Convenience.
Impressive list of credits
Pomanti may be only 21 years old but he's already developed an impressive string of credits playing with musicians such as Nikki Yanofsky, John Scofield, Mike Stern, Scott Helman and even Ed Sheeran during the 2015 MMVAs.
It all started ten years ago when Pomanti, bored with the usual childhood piano lessons, started playing piano by ear, picking out the notes to his favorite video game at the time, Legend of Zelda: Ocarina of Time.
By age 15, when he started listening to Prince, he said he knew what his direction his life would take.
"When I started listening to Prince when I was 15, that was kind of a turning point in my life.  I saw this movie Sign o' The Times… It blew my mind so much. I just didn't even understand what I had just seen. And I remember after seeing that realizing that it changed the whole way I thought about music."
Pomanti attended Birch Cliff Public School as a young child but the family moved to a farmhouse near Cobourg for many years and returned to Birch Cliff in time for Sam to attend the well-regarded music program at Humber College.
It was at Humber that Pomanti met most of the members of his band, originally called Saishubi, and they were selected by the program to record with legendary music producer Al Schmitt during his stint as Humber's producer in residence.
In addition to Prince, some of Pomanti's favourite artists include The Police, Steely Dan and St. Vincent and growing up he was influenced by bands such as Earth Wind and Fire and Tower of Power.
"I just grew up listening to music that had horn melodies and horn lines and so when I started writing music it would just kind of come naturally through my writing like oh great if there was a horn line here some shots there and that kind of thing."
Talent runs in the family
Pomanti comes by his talent honestly.  He's the son of Lou Pomanti, a musician who got his start back in 1980 playing keyboards with Blood Sweat and Tears and went on to become one of Canada's leading producers and musical directors.
Lou has countless television and film credits and has served as musical director for the Juno Awards, the Geminis, The Genies and the 2011 Pan American Games handover ceremony.
He arranged the orchestra for Michael Buble's big hit "Haven't Met You Yet" and leads the funk band Oakland Stroke, which plays all over Toronto.
Lou is quick to point out that he doesn't co-write or really play on Sam's music very much, but rather his influence is in mixing and mastering for his son in his project studio.
"Well, look he's got access to every piece of gear he could ever want because I already own it," Lou said.  "And he's like my toughest client I've ever had in my life. He works me like a dog."
Sam said he knows he's fortunate to have a dad in the business but he's definitely getting ahead on his own steam.
"I try to look at it in a positive way because I myself know that most of the success I've had is definitely due to my own hard work and the things I've done the way I see it is. Although my dad's influence has surely given me opportunities that other people may not have had if I didn't have the ability to back it up I wouldn't have been able to do them," Sam said.
At one point, Lou said he even tried to talk his son out of a career in music.
"I said anyone who can be talked out of a career in the arts shouldn't be in it. It's only the diehards that have to do it like breathing air are the ones that should try a career in music or dance or painting or whatever because it's like the only thing that's going to sustain you through all of that … And so there's no way I could talk him out of it," Lou said.
Sam agrees that talking him out of a career in music was out of the question.
"It's not really a choice… I kind of walk around and all these ideas kind of come to me and I just feel like if I don't do these ideas justice that I'm kind of letting down all these blessings, these ideas that come to me. So it's really just a matter of doing justice to those moments of inspiration."
Moonhead's next show is at Mill's Hardware in Hamilton on Nov. 12. They'll be in Toronto at The Painted Lady on Dec. 8.  Sam and Lou will be performing together at the annual variety show in support of Gilda's Club at the Sony Centre for the Performing Arts, along with Russell Peters, Jann Arden and Colin Mochrie.
Scroll down for more videos.
A cover of "Sweet Transvestite".
2015 performance at the Beaches Jazz Festival when Moonhead was still going by Saishubi
Do you have an idea of someone we could profile for Birch Cliff News?   If so, please click the button.
Submit a story idea