Big box store: 110,000 sq. ft.
By Hedy Korbee
Build Toronto is planning to construct a 110,000 square foot big box retail store on Victoria Park Avenue just north of Gerrard Street as part of its plan for development of the Quarry.
The revelation is contained in a preliminary City of Toronto staff report that has been submitted to Scarborough Community Council for consideration at its meeting on Tuesday, Feb. 26th.
The report provides the most detail so far on how Build Toronto plans to lay out the retail/low-rise housing development on its 19-acre parcel on the Quarry site.
In addition to the big box retail, the graphic below shows a four-storey apartment building to be located behind the Shell station, townhouses to the east of that, stacked townhouses along the CN rail line, and 1.3 kilomeres of new roads.
Site Plan drawing submitted by Build Toronto (Click on map to see a larger version.)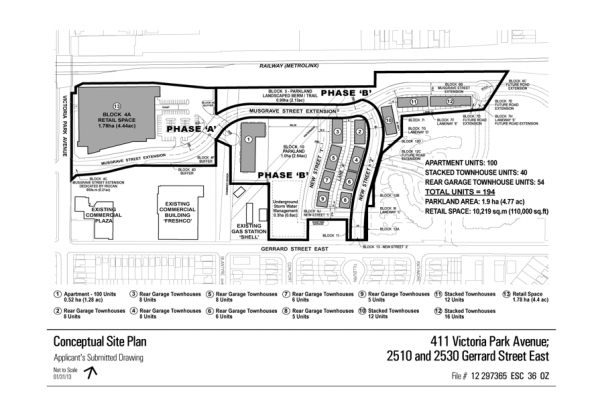 Up until now, Build Toronto's plans for the Quarry were much more vague, as can be seen in the graphic below, which was released in October.
In order to proceed with its development, Build Toronto has applied for rezoning of the land and the amendment of Toronto's Official Plan.
The planning department report recommends that Scarborough Community Council direct staff to hold a community consultation meeting about Build Toronto's plans.
After the consultation process, a final report will be prepared and another public meeting will be held.
The new President of Concerned Citizens for Quarry Lands Development, Tim Weber, is already expressing concern that the big box store is slated to be 110,000 square feet.
"The community is concerned about the size of the big box store and what that might mean to traffic. It might be too big. Can Victoria Park handle all the cars coming in and out of that store? And if the entrance is off Gerrard, that will require significant improvements to that artery."
There was  widespread opposition to the placement of big box retail in the Quarry at a consultation meeting hosted by Build Toronto in October.
The CCQLD followed up with an online survey where preliminary results released last month indicated the opposition had softened.
At the time, the CCQLD said it's not clear if public opinion had actually changed or if it was simply because the survey was filled out by different people than those who attended the October meeting.  The final survey results will be released soon.
It's important to keep in mind that Build Toronto's plans are not related to the controversial plan by the Conservatory Group to build  high-rise towers on the eastern side of the Quarry.
The high-rise development is opposed by elected representatives from all three levels of government and virtually everyone who lives in the area.
To view more of our extensive coverage about development of the Quarry, click here.
Do you have a story idea?