Revamped Nice Nook
Exciting changes are in store for Nice Nook, the lifestyle consignment store at 1488 Kingston Rd., east of Warden, that has been so well received by Birch Cliff residents since it opened last December.
The store has been closed recently because owner Colleen Imrie is phasing out her consignment business in order to focus on local artisans and entrepreneurs while still retaining the eclectic, vintage Nice Nook vibe.
"I'm attracting more found treasure enthusiasts and people that have more of a crafty product that they just don't have the retail opportunity to sell," Imrie said. "That's a big need. The shop is switching over to a model where we give 100 percent of the selling price back to the artisan in exchange for a monthly rent."
The revamped store, which is expected to reopen in mid-August, will have 20 vendors with an average "nook" space of 5 x 3 feet.
The Carberry Soap Company has already signed up for a "mega-nook" at the front of the store where they will be selling beautiful handmade soap products made from natural ingredients.
Streetcar Prints
Another space has been rented by Streetcar Prints, which has become well known for beautiful vintage Toronto streetcar photography as well as word typography art.
Streetcar Prints is a "passion project" for owner Michael who works in the media full-time and creates custom art as his hobby.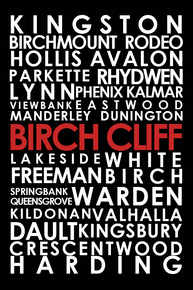 "The concept behind Streetcar Prints is that I had seen a lot of the word typography art at places like Homesense and home decor stores but it was always London or Paris," Michael said. "But it was not something I wanted to have in my house or something that reflected me."
So he decided to do something about it.
Michael said that Nice Nook will have a 50/50 split of streetcar photos and word typography art and he's already designed a terrific Birch Cliff print that you can have him customize any way you want.
"You can change the color.  You can request to have Birch Cliff in blue. I basically charge the same price.  If I missed your street I can insert it to make sure your street is in there," Michael said.
Rationale behind redesign
Imrie decided to change the business model for Nice Nook after she opened a second location called Design Nook at 2038 Danforth, just west of Woodbine.
It's a beautiful store and business is booming.  It's doing so well that Imrie leased a store a few doors east and has opened another location called Nice Nook Lifestyle.
Imrie thinks the same type of store on Kingston Rd. will thrive more than the consignment/artisan mix she's offering now.
"We're seeing a change in just market demand and people's buying trends. Consignment isn't as strong as now and the percentage that my consignment model took just wasn't enough to support the expense of the retailer in Toronto. So I had to adjust and that's okay."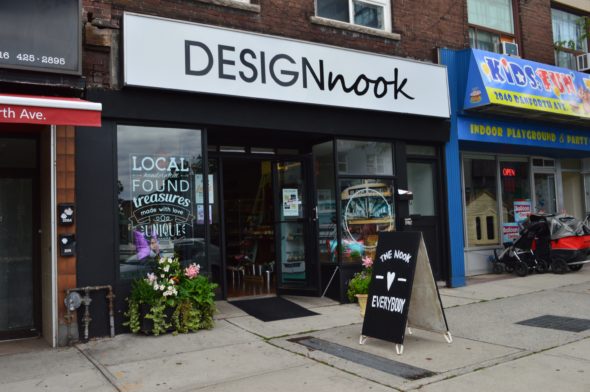 Michael said Streetcar Prints is doing very well up on the Danforth and hopes for a similar reaction in Birch Cliff.
"The sense I get is that people really responded to supporting local artists there.  Everyone associated with the store have been really happy with the experience."
To get an idea of what the redesigned Nike Nook will look like, scroll down for a few photos from the two stores at Danforth and Woodbine.