Rosemary & Thyme to close
The familiar strains of "Scarborough Fair" are playing in the background as I sit down with Rosemary & Thyme owner Rosemary McIntosh to talk about why she's closing her tea room on Kingston Road at Kildonan.
We take a seat in the Victorian armchairs in a comfy nook of the tea room, and as I look at the charming pastel green decor and local artwork hanging on the walls, I can't help but wonder why I haven't been here before.
As it turns out, people like me are part of the problem — people who are not consistent enough in our support of local business.
Not enough business growth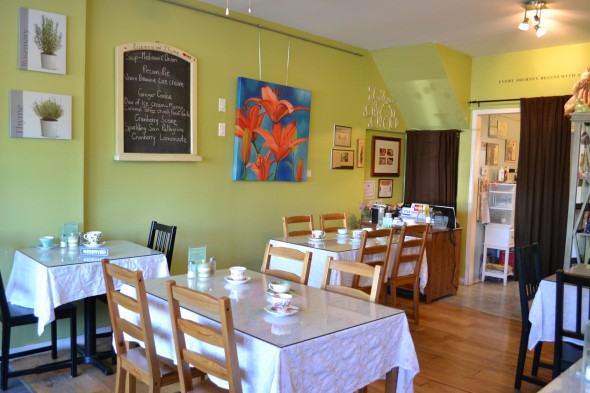 Although McIntosh has a small loyal clientele, she says has no choice but to find a new location for her tea room because the business simply hasn't grown enough since she opened almost five years ago.
One of the reasons is Birch Cliff's car culture and the lack of walk-in traffic on Kingston Road:
"More people need to walk around and see what's in the neighbourhood instead of just jumping in their cars and driving somewhere else." McIntosh says.  "I kept going because I was hoping I would entice more businesses to move into the area.  I thought if I hang in here, maybe more people would be encouraged to open up businesses.  In five years I've seen no change."
Kingston Road problems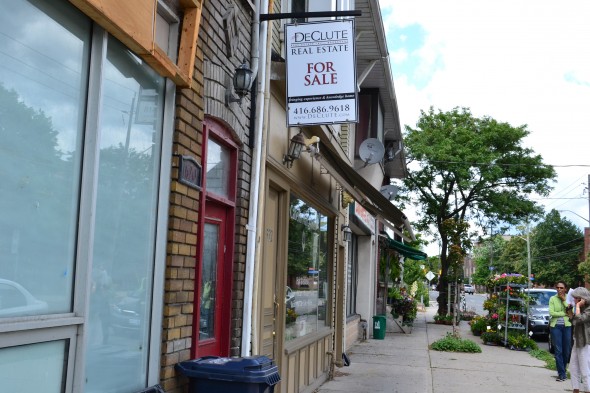 Businesses seem to close more than they open in Birch Cliff, and everybody knows the shortage of viable retail on our main street is one of the neighbourhood's biggest problems.  Case in point — across the street from Rosemary & Thyme is a car dealership that's been vacant for two years.
McIntosh says she was driving along the Danforth recently, admiring the beautiful flower planters, and wondering why Birch Cliff can't have something similar.  The answer might lie in part with the lack of a Business Improvement Association in our neighbourhood that can band together and get things done.
Improvements on the way
But there is reason for optimism.   In 2013, construction is scheduled to begin on makeover of Kingston Road between Warden and Birchmount Road.  This will include a complete overhaul of the street (including repaving!), the sidewalks and much needed streetscaping improvements.  There has been extensive consultation with the community on the Kingston Road Revitalization Study since it was launched in 2005, and further details should be available in the fall.
Ward 36 City Councillor Gary Crawford says revitlizing Kingston Road has been a priority and he's pleased that change is in the works:
"I'm really excited to finally see some substantial change to that part of Kingston Road that will kick start some positive changes to the entire community, street and businesses."
On the menu at Rosemary and Thyme Tea Room
A Birch Cliff resident for 27 years, McIntosh opened Rosemary & Thyme tea room in October 2007 because she felt there was a need:  "When my daughters were young, I'd walk around looking for somewhere nice to go, and there was nowhere to go", McIntosh says.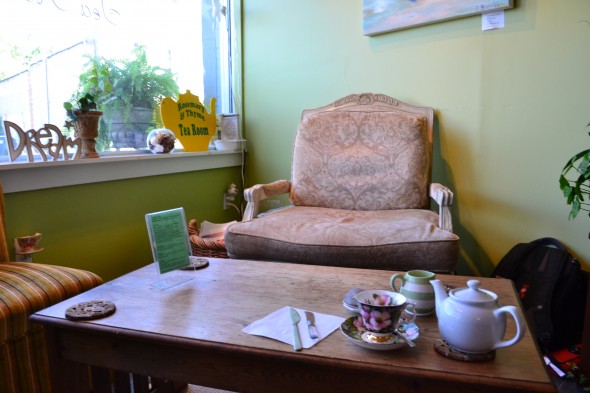 Rosemary & Thyme serves 30 different varieties of tea but also brews a good cup of java for those who prefer coffee over tea. The busiest time of day is lunch when the menu features a daily homemade soup and nine different sandwiches.  From Thursday to Saturday, there's a "special", which is often a grilled sandwich or a featured salad.
Ironically McIntosh says getting more business now that everyone knows she's closing on July 28th.
McIntosh is looking at affordable storefronts in higher traffic areas but has not ruled out opening in a new Birch Cliff location with more walk-by traffic.  We can only hope.
This story idea was suggested by a member of the community.  If you have a story idea, please click the button.
Submit a story idea