Scarborough gateway mural
Something other than traffic will soon be flying through the underpass at Kingston Road and Danforth Avenue.
A new mural featuring birds and/or butterflies is in the works to transform the drab, concrete underpass into a work of public art that serves as the western gateway of Scarborough.
Beautifying neighbourhoods
The latest mural in the Birch Cliff area is a collaboration between two City of Toronto initiatives:  StreetARTToronto (adding beauty and character to neighbourhoods through public art) and Cultural Hotspot (celebrating arts, culture and community in diverse neighbourhoods outside the downtown core).
Working in conjunction with Mural Routes, which has played a key role in many of the murals that have sprung up recently in Birch Cliff, three artists from the StreetART roster were recently shortlisted and invited to submit artistic proposals for the underpass.
Birds and butterflies prominent
Karin Eaton, Executive Director of Mural Routes, said all three submissions reflect the fact that the Scarborough Bluffs and nearby Rosetta McClain Gardens are on an important migratory route for birds and butterflies.
"We gave them a very general overarching theme to think of what are both the cultural and environmental landmarks," Eaton said. "What's important in this general area?  We had a line in there that said Scarborough is a migratory path of many birds and butterflies. It wasn't specifically a theme but if you saw the proposals they all picked up on that."
Eaton said the artists were also told that the point where Kingston Rd. and Danforth Ave. merge is a high-speed, high traffic area and not a popular pedestrian underpass.
"We wanted to make sure they understand that it wasn't necessarily going to be viewed close up slowly, but would be driven by most of the time," Eaton said.
View submissions below
Submission #1  by Bill Wrigley includes views of the Scarborough Bluffs and is designed "…to suggest movement ostensibly in the direction of the vehicular traffic."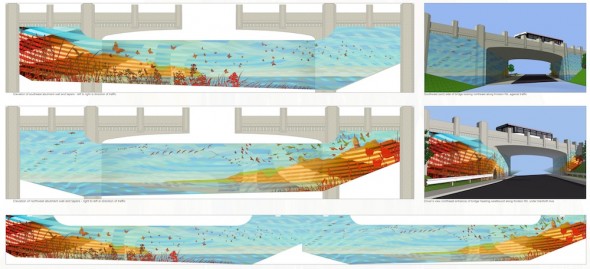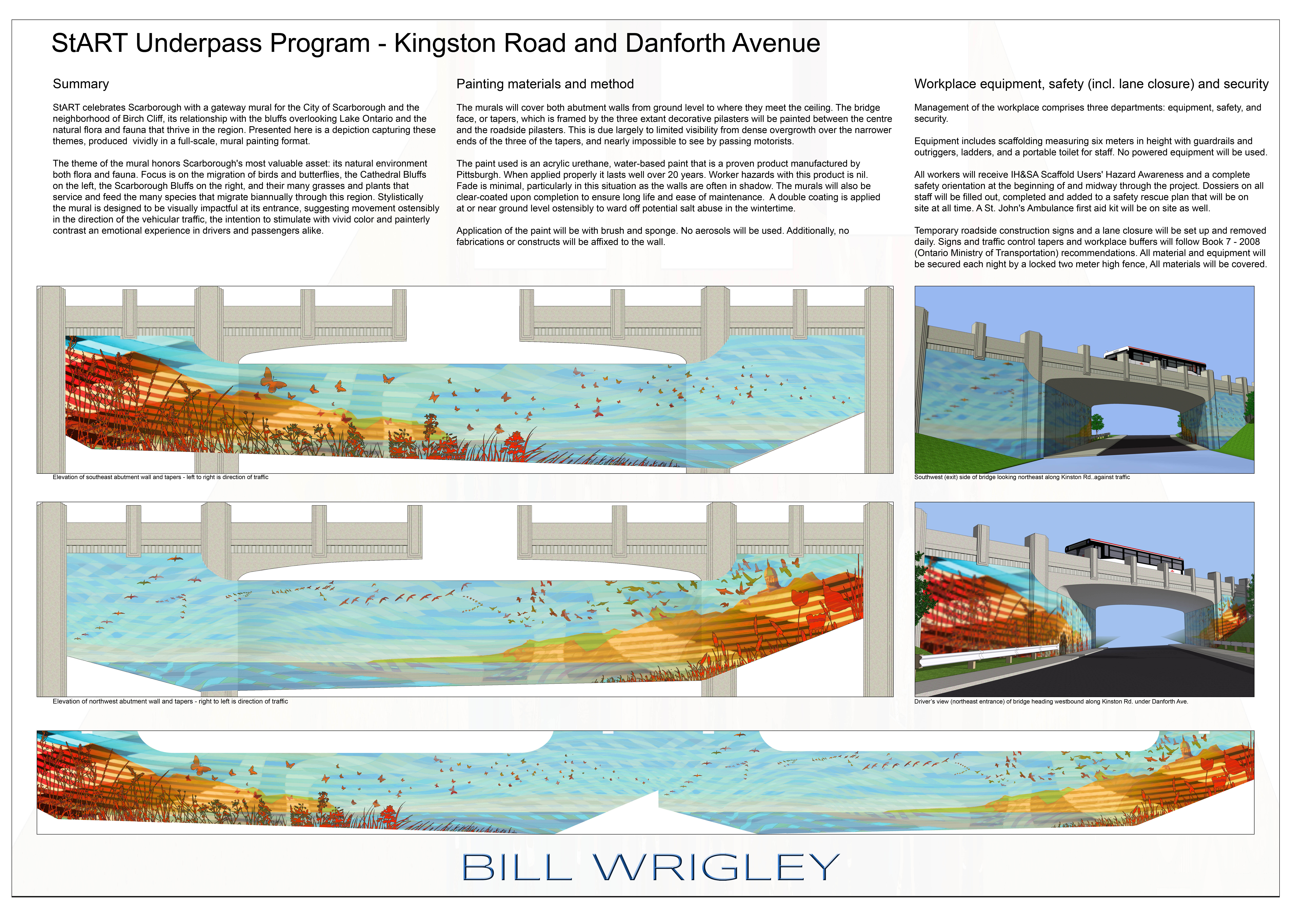 Submission #2 by Karole Marois illustrates the movement and flow of fall migration on one side of the underpass and spring migration on the other.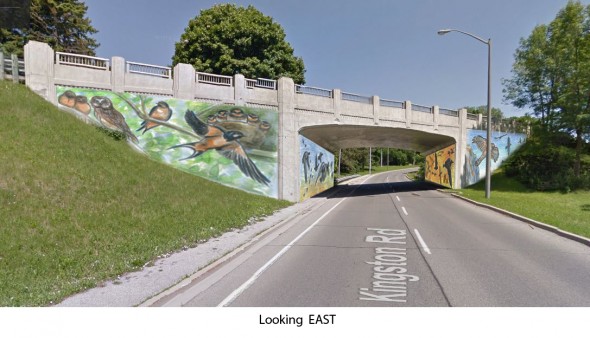 Submission #3 is "Butterfly Effect"by Larry Hunter.

Eaton says the winning submission will be announced next week and that work on the western gateway to Scarborough is scheduled to begin in mid-August.
Work has already begun on the eastern gateway mural at 277 Old Kingston Road in Highland Creek and you can see how that is progressing by clicking here.
~~~~
We'd love to hear your story ideas – please click the button!
Submit a story idea