Today in History: 1918
It can be interesting to look at the kinds of stories that newspapers published a century ago.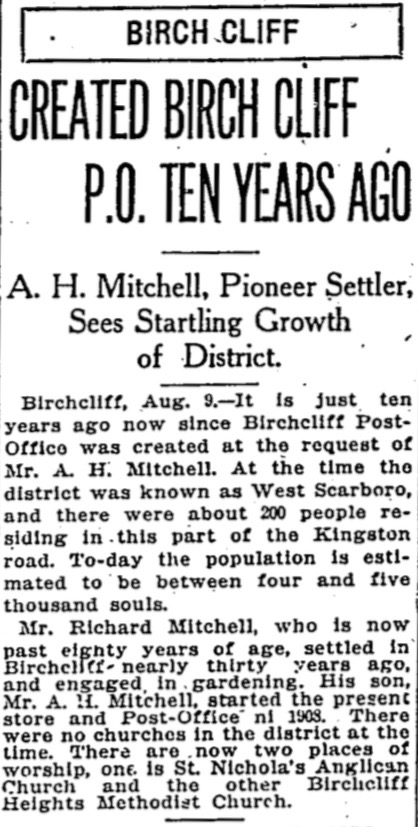 On Aug. 9, 1918, The Toronto Daily Star ran a short piece commemorating the fact that the Birch Cliff Post Office was celebrating its 10th anniversary.
The post office was established in 1908 in A.H. Mitchell's store on the northwest corner of Kingston Rd. and Birchmount Ave.
It was called the Birch Cliff Post Office at the request of Henry Redman, the first solicitor for the Township of Scarboro.
Redman lived right on the bluffs at the bottom of Birchmount on the lot now occupied by the abandoned monster home.
At the time the birch trees were plentiful across the top of the bluffs and the first home built in the neighbourhood was called Birch Cliff cottage.
The name stuck for the entire neighbourhood.
Not only is Mitchell's store historically significant but it's also the source of some the earliest known photographs of the neighbourhood.
According to Rick Schofield of the Scarborough Archives, Arthur Harding Mitchell was born in 1872 and married Mary Ionson, a great-granddaughter of David and Mary Thomson, Scarborough's first permanent settlers.
He was Birch Cliff postmaster from 1908 to 1929 when he resigned and the post office was moved to Whan's drug store
Their son, Arthur E. Mitchell (1909-1986), took over the business and then passed it along to his son Arthur Harold Mitchell (1937-  ) who married Bernadette Conway.  They had four children:  Ann (b1958)  Mary Joan (b1963) Stephen (b 1964) and Vincent Lee (b 1966).
Schofield believes that Arthur Harold was the last Mitchell to run the store.
One can't help but wonder if Harding Blvd. was named at A.H. Mitchell.
The archives has a neat web page that details the origin of street names in Scarborough but the connection to Arthur Harding Mitchell isn't mentioned.
~~~
This is article is part of a community "Today in History" series commemorating the upcoming 100th anniversary celebration of Birch Cliff Public School taking place on Sept. 23/24, 2016.  To see other articles click here: 1927, 1929, 1935, 1935, 1951, 1993, 1796, 1991, 1983, 1988, 1985, 1930, 1996, 1926.