Today in History: 1999
On Sept. 2, 1999 residents of Birch Cliff learned that the City of Toronto planned to open a homeless shelter at 1673 Kingston Rd., just west of Birchmount Rd., through an article published in the Toronto Star.
The city had not conducted a community consultation and Birch Cliff found out from the media that the residents would be transferred from Seaton House downtown, which accommodates men with a range of needs including "very poor health, drug and alcohol problems and mental illness."
There were concerns that the shelter would be located just 70 metres from Birch Cliff Public School and parents had a lot of questions, especially about the lack of background checks on the residents.
"It was too secretive," said former Councillor Brian Ashton in a Toronto Star article published on Oct. 28, 1999. "It was almost deceitful to a certain point of view.  If you wanted a model of how NOT to place shelter accommodation across the city, this is the model.
The lack of consultation stemmed from a city council decision in July 1999 to deal with a growing homelessness problem by fast-tracking shelter approvals.
"We in Scarborough Bluffs are doing our fair share," former Councillor Gerry Altobello told the Star at the time, noting that there were already several hundred homeless people living in motels along Kingston Rd. at the city's expense.
Making matters worse, the site, previously known as Van Del Manor, was terribly run down and had a history of controversy.  After its nursing home license was suspended in 1998 it reopened as an unregulated retirement home in May, 1999.
The shelter split the community. While some concerned citizens sought more information and organized against the shelter others were upset by the negative reaction and called for compassion.
Eventually, concessions were made, members of the community were appointed to the board, and the result was Birchmount Residence, which has been part of the fabric of life in Birch Cliff for 17 years.
The city announced last fall that Birchmount Residence will be closing and moving to a renovated motel on Kingston Rd. east of Bellamy.
~~~~~~~~~~~~~~~~
City to lease troubled home for new hostel; Former Van Del Manor to house 60 elderly men
The City of Toronto has signed a deal to house poor, elderly men in the retirement home that got Mayor Mel Lastman up in arms calling for sweeping changes.
John Jagt, director of Toronto Hostel Services for the City of Toronto, confirmed that about 60 pensioners from Seaton House are to move into the former Van Del Manor, the only nursing home in Ontario to have its licence suspended in the past decade.
Calling it a coincidence, the city on Friday signed a conditional lease on the retirement home for $7,000 a month so elderly men from Seaton House can move into the retirement home later this month.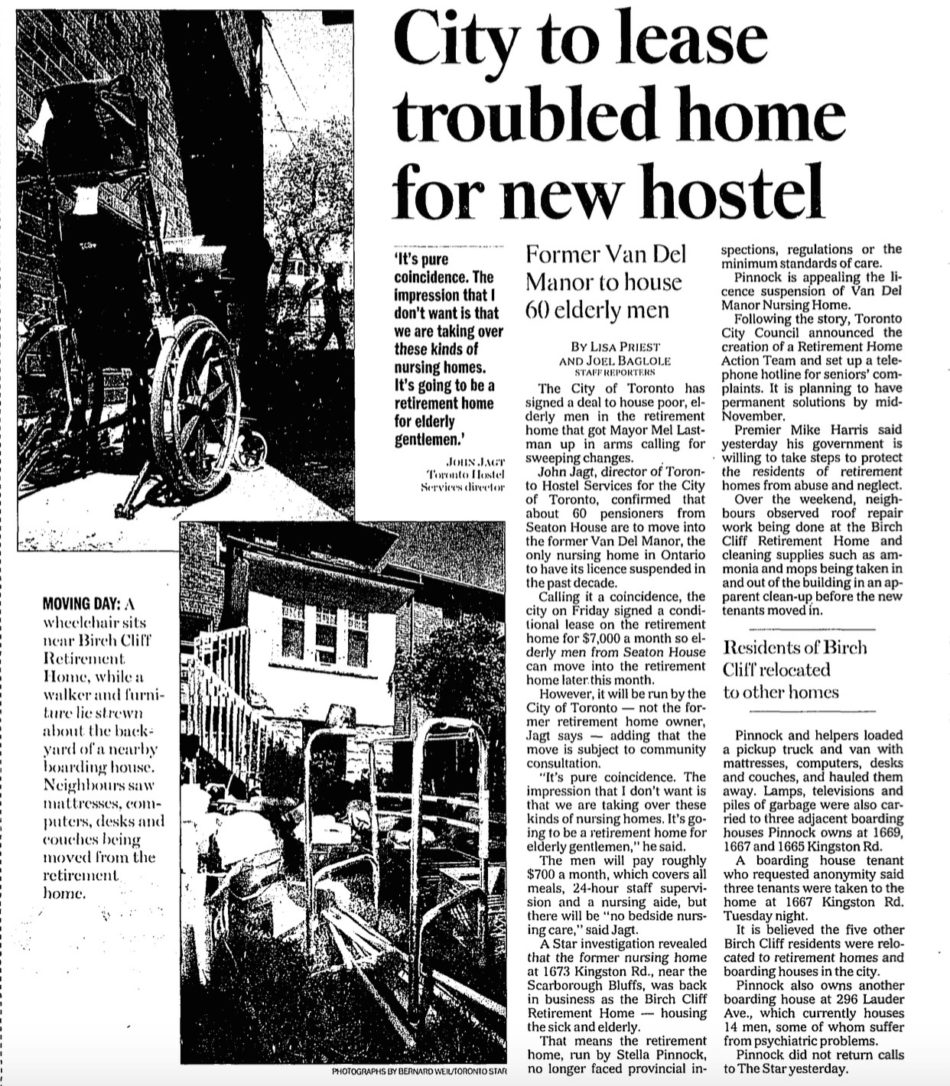 However, it will be run by the City of Toronto – not the former retirement home owner, Jagt says – adding that the move is subject to community consultation.
"It's pure coincidence. The impression that I don't want is that we are taking over these kinds of nursing homes. It's going to be a retirement home for elderly gentlemen," he said.
The men will pay roughly $700 a month, which covers all meals, 24- hour staff supervision and a nursing aide, but there will be "no bedside nursing care," said Jagt.
A Star investigation revealed that the former nursing home at 1673 Kingston Rd., near the Scarborough Bluffs, was back in business as the Birch Cliff Retirement Home – housing the sick and elderly.
That means the retirement home, run by Stella Pinnock, no longer faced provincial inspections, regulations or the minimum standards of care.
Pinnock is appealing the licence suspension of Van Del Manor Nursing Home.
Following the story, Toronto City Council announced the creation of a Retirement Home Action Team and set up a telephone hotline for seniors' complaints. It is planning to have permanent solutions by mid-November.
Premier Mike Harris said yesterday his government is willing to take steps to protect the residents of retirement homes from abuse and neglect.
Over the weekend, neighbours observed roof repair work being done at the Birch Cliff Retirement Home and cleaning supplies such as ammonia and mops being taken in and out of the building in an apparent clean-up before the new tenants moved in.
Pinnock and helpers loaded a pickup truck and van with mattresses, computers, desks and couches, and hauled them away. Lamps, televisions and piles of garbage were also carried to three adjacent boarding houses Pinnock owns at 1669, 1667 and 1665 Kingston Rd.
A boarding house tenant who requested anonymity said three tenants were taken to the home at 1667 Kingston Rd. Tuesday night.
It is believed the five other Birch Cliff residents were relocated to retirement homes and boarding houses in the city.
Pinnock also owns another boarding house at 296 Lauder Ave., which currently houses 14 men, some of whom suffer from psychiatric problems.
Pinnock did not return calls to The Star yesterday.
Property had troubled history
Van Del Manor was closed in 1998 after a serious of complaints about poor care as well as 38 health inspection infractions.
It reopened in May 1998 and by August of that year it found its way to the pages of the Toronto Star again in a story about unregulated care in retirement homes.
"I thought I went through hell in Korea. It was nothing compared to that place,"  war veteran John Hayward to the Star.  "It was a dirty place, boy.  Filthy. And you couldn't get clean.
The article detailed a litany of problems with the home including complaints from neighbours about shocking personal care.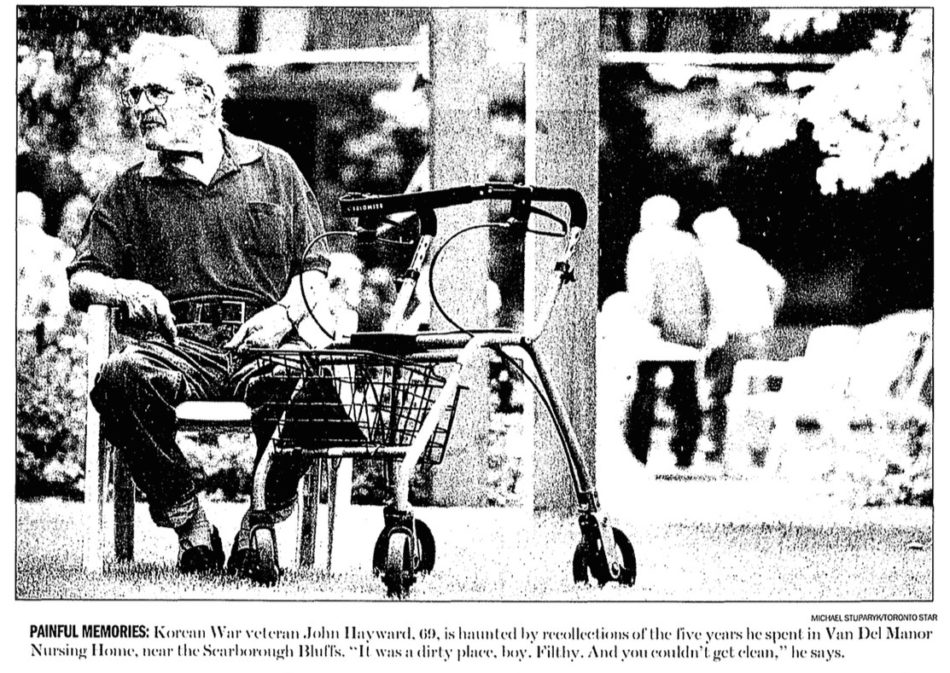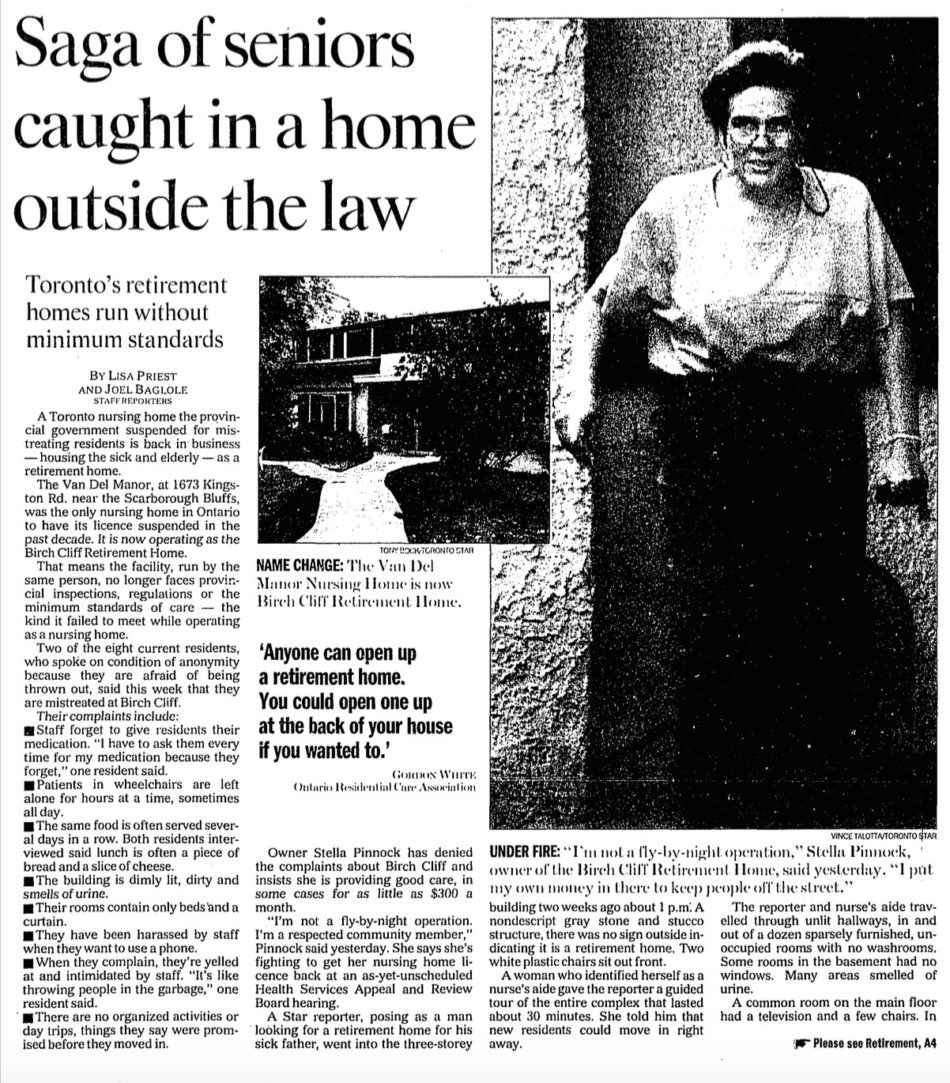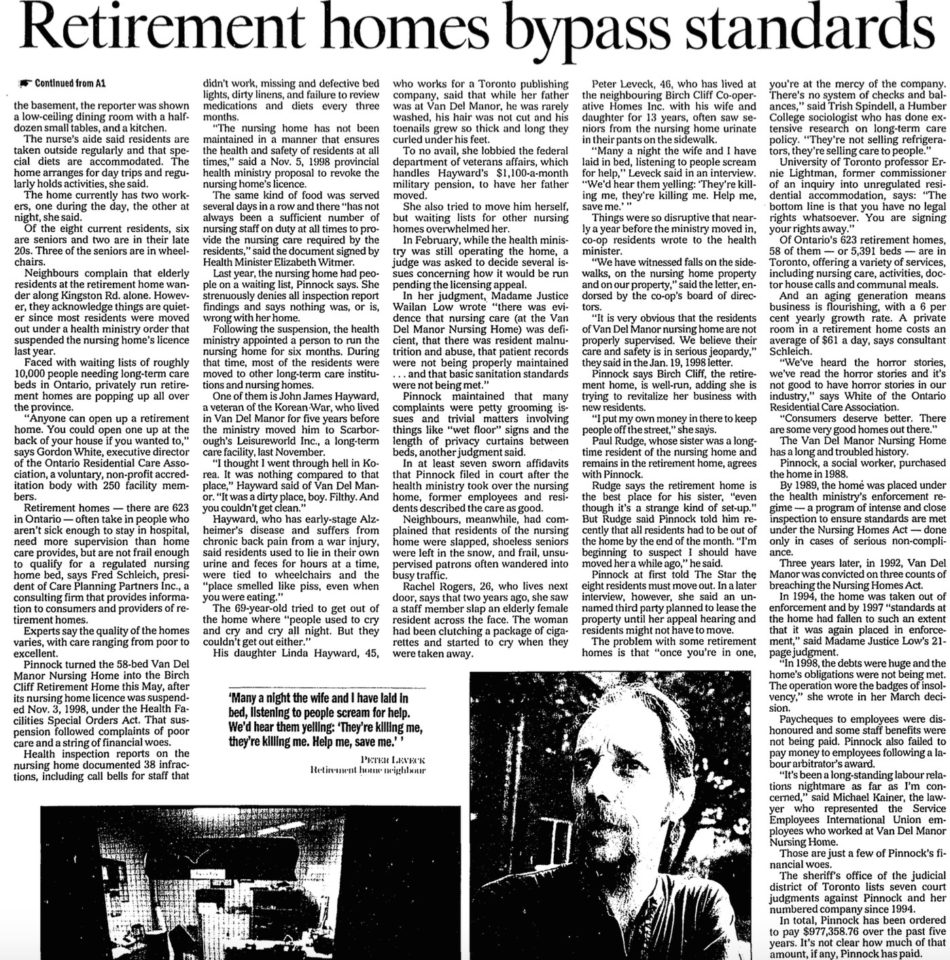 This is article is part of a community "Today in History" series commemorating the upcoming 100th anniversary celebration of Birch Cliff Public School taking place on Sept. 23/24, 2016.  To see other articles click here: 1927, 1929, 1935, 1935, 1951, 1993, 1796, 1991, 1983, 1988, 1985, 1930, 1996, 1926, 1918.