Kingston Rd. condo craze
By Hedy Korbee
One of the uglier stretches of Kingston Road is about to get a makeover as yet another condominium developer discovers the value of lakeside real estate in Birch Cliff.
The entire block of Kingston Rd. between Queensbury and Audrey Aves., now occupied by Alvand Auto Sales and the Eastwood Medical Centre, is slated to be torn down and replaced by an eight-storey mid-rise development with views of the Hunt Club golf course and Lake Ontario.
Adit Kumar, a partner at Infinity Development Group, said his company was attracted to the property by the spectacular view.
"We just fell in love with the view," said Kumar.  "It's a one of a kind site. To have views like this in Toronto in such close proximity to downtown where you're not looking into someone's living room, you're actually looking into lush green space, going into the lake – we just fell in love."
This is what the proposed condo site looks like now: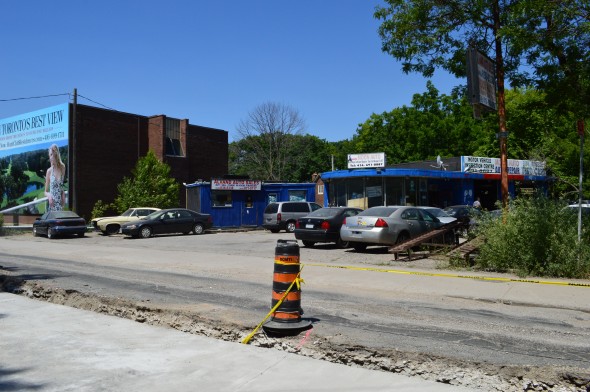 Between $289K and $ 2 million
The 73-unit development will consist of 61 condos units as well as 12 two-story townhomes on the ground floor.  They range in price from $289,00 for a 600 sq. ft. one-bedroom condo to $2,000,000 for a 2,000 sq. ft. penthouse.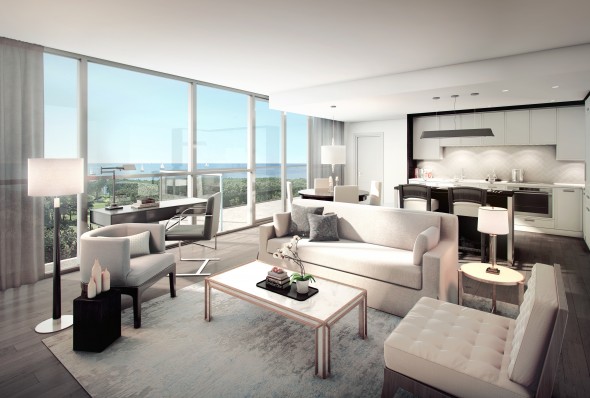 The sales office for Residences at the Hunt Club opened last weekend and Kumar said the development is already one-third sold, including three of the five penthouses.
Similar to the condo development immediately to the west, Hunt Club Terrace, Kumar said the majority of their buyers so far are people from the community who want to remain in the Birch Cliff / Beach area.
"It's not an investor product where you have downtown investors," Kumar said. "It's more of an end-user product where we have buyers in their 50's saying I don't want to live in a house anymore with the maintenance.  I should move into a condo where there's less upkeep that you have to do."
Rezoning not necessary
Rezoning is not required for the new development as Kingston Rd. was zoned Commercial Residential in Feb. 2010 to allow for a mix of residential and retail uses, as recommended by the Kingston Road Revitalization Study.
Previously, most of the stretch from Victoria Park to Glen Everest was zoned Highway Commercial and Neighbourhood Commercial, which encouraged automotive shops and prohibited residential buildings.
As per the zoning requirements, Residences at the Hunt Club will be angled 45% on the north side of the building to prevent shadows from falling on neighbouring houses.
Kumar said Infinity Development Group has submitted a site plan to the City of Toronto and is in the process of making requested aesthetic changes.
Fourth condo project for Kingston Road
This latest development is the fourth condo project announced for Kingston Rd. in Birch Cliff/Cliffside  in the last 20 months, (see here, here and here) and a sign, according to Ward 36 Councillor Gary Crawford, that revitalization is picking up steam.
"With the old Alpine Hotel site opening up their sales office and construction slated for next year, development along the Kingston Road corridor is beginning to gain momentum.  These types of proposed developments are the kind of  residential and mixed small commercial that compliment our community so well," Crawford said.
We'd love to hear your views on the condo craze on Kingston Rd – feel free to scroll down and leave a comment.