New art school in Birch Cliff
By Christina Mulherin
Marija Barac Jandric had always dreamed of owning her own art school where she could teach her ideologies on the subject.
Back in May, she notified the art school where she was teaching that she would be leaving at the end of the term.
"I had sort of an epiphany and thought 'this is it, it's time, I've gotta do it now!' said Barac Jandric, now the owner and managing director of Rosetta School of Visual Arts.
Within a few months, she had found a space in Birch Cliff, sorted things with the bank out and started making her dream a reality.
"I chose to bring the school to this community because I find that this community is starved in art content," said Barac Jandric. "Public school systems don't offer nearly as much—or worse, art classes are not taught by actual art teachers. Art has to be taught by not only artists but by practicing artists who are up to date, aware of movements, trends and so on."
School named after Rosetta McClain
Rosetta School of Visual Arts opened its doors in September at 1580 Kingston Rd., just east of Eastwood Ave.
Barac Jandric said she named the school after Rosetta McLain, who also lends her name to Birch Cliff's beloved park Rosetta McLain Gardens.
McClain died in Dec. 1940 and in 1959 her husband offered the beautiful property to the city of Toronto as parkland in her memory.
Barac Jandric said that the word Rosetta has a lot of symbolism and importance in art as well.
"For example, gothic cathedral windows are called Rosetta. Rosetta is also a shape of perfect symmetry; in any way you section it it has perfect balance. There is also the Rosetta Stone that symbolizes knowledge and education," Barac Jandric said.
"We also didn't want to name the school something generic, we wanted the name to almost personify the place," said Tamara Gotovac, Marija's assistant director, who also designed the school's logo.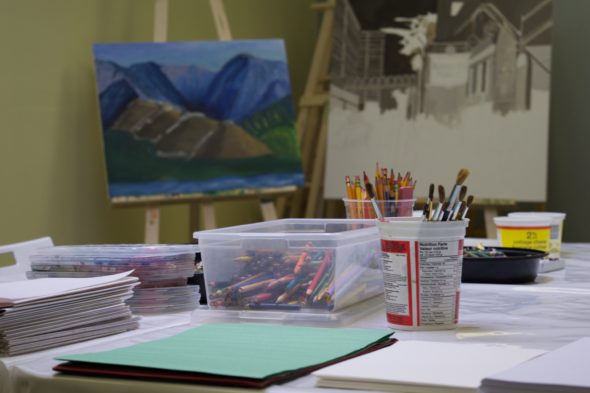 Classes for all ages and skill levels
The school offers an array of classes covering various types of art for all ages and skill sets.
Classes are taught by Barac Jandric and Gotovacas as well as other practicing and professionals and experienced educators.
Artwork from students as young as 4 up to 89 can be found around the studio, demonstrating that art has no age limit.
"Every single person has talent. I have never met a child that wasn't gifted," said Barac Jandric. "That's the biggest misunderstanding that talent is something rare. It's not, we all have it, all you need is courage, nurture, passion, drive and interest and the right education."
Natalie Ward, 12, who is in her second 9-week term at Rosetta, said she was previously in another art school but her parents wanted her to go somewhere that had a wider range of art styles.
"Natalie has loved art ever since she could hold a pencil. We've done different programs and felt like this one was a little more serious. She was looking for a challenge and this is what we decided to do," said Natalie's father, Russell Ward.
Natalie is thinking of applying to a high school for the arts in the fall and has been working on creating and building her portfolio.
Another student, Caitlin Campbell, 10,  said the classes were a gift from her aunt. Her mother, Darylene said her daughter was always artistic but is blown away by how much the program has improved her skills.
"Every week I come in and it's just amazing what Marija has brought out in my daughter," Campbell said.
Barac Jandric's goal is to equip her students with the necessary tools and techniques in order for them to then create their own unique pieces.
"Something people should be more educated in is how, more now than probably ever, art is important in kids' education. Teaching them to be creative is teaching them to think outside of the box, which will help them when they are applying for jobs, in any field," Barac Jandric said.
"It's not enough to have a degree of a PhD, you've got to be original, not somebody who's going to copy everyone else, you've got to have an original thought," she said.
"Art, on a physiological level creates new paths and ways of thinking. Training in art is extremely necessary."
School focusses on technique
"We are a lot more process-oriented than product oriented. A lot of art schools focus more on having students go home with something they put together. It's not about that—it's fun!— but it's not about that. It's about teaching from dot to line to shape to form," said Barac Jandric.
It's not about what you create but rather how you did it. The important part is learning the different concepts and techniques.
"We give them the building block and then you let them explore and let them create their own art" Gotovac said.
The school's owner said her business has been growing since, as the word spreads more people become interested in the concepts she teaches and the importance of art in the modern day.
With the support of the community, Barac Jandric hopes to be able to make a living doing what she loves.