New condo in heart of Birch Cliff
By Hedy Korbee
Birch Cliff is about to get a major facelift.
A developer has purchased half a block of property on the north side of Kingston Rd. between Warden Ave. and Manderley Dr. with plans to build a mid-rise condominium with 120 units.
The new development means that seven existing businesses will be torn down including Wimpy's, Beckers, The Salvage Shop, Mayfair Custom Upholstery and New Energy Muay Thai.
Ward 36 Councillor Gary Crawford confirmed the new development Friday in an interview with Birch Cliff News.
Crawford said the developer is Core Development Group, which plans to construct a split residential/commercial building with 10,000 square feet of business space.
"This will be huge opportunity for the community for the kind of retail and commercial space that could potentially go in that entire section," said Crawford, who's been working for years to help revitalize Kingston Rd., including the Birch Cliff strip.
Crawford said the developer is also in discussions with St. Nicholas Church to purchase the run down laneway and parking lot behind the strip mall.
Core Development Group has yet to submit any plans to the city, according to Crawford, and it could be several years before the development is finished.
"The development process to get the approvals can be upwards of two years and then demolition and building that usually takes 18 months to two years," Crawford said.
Business owners upset
News of the new condo has been devastating for the small businesses on the retail strip who were told by the new owners last week that they have six months to vacate their properties.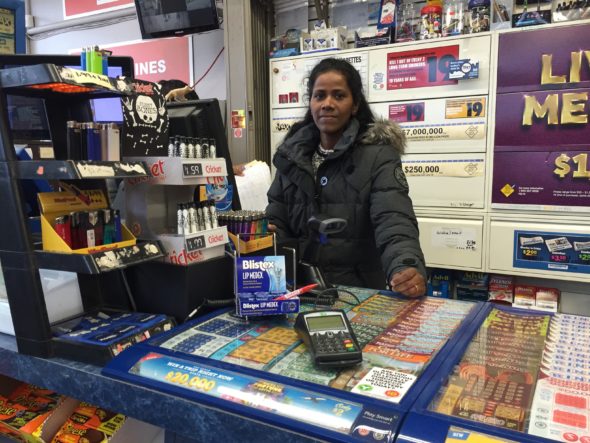 Kousika Shanthakumai, who has managed the Becker's store for 17 years, said she is depressed by the news. She quit nursing school to work for her brother-in-law who owns the Beckers as an independent franchise.
"I have two children and I don't know what I'm going to do," said Shanthakumi through tears.  "I quit studying and I can't even go back to school and get a good job."
"We spent 40 years here building a community and now we have to leave," said Abdul Malik, who owns Mayfair Custom Upholstery.  "It's a bit sad, but that's life.  What are you going to do?"
The usually loquacious Roy Clifford, owner of the Salvage Shop, refused to comment because of ongoing negotiations with the new owner.
The business owners are upset not only because they're being pushed out but because they said six months is not enough time  to vacate the premises.
Crawford has met with the business owners and the developer and he's confidant they can work out a suitable transition plan that he said "will definitely be more than six months".
"They totally understand the predicament that these business owners are in and they're more than willing to work with them to try to solve their concerns," Crawford said.
What will condo look like?
"It's not entirely clear how tall the new condo development will be.  The business owners said they were told by Core Development Group that it will be ten storeys tall but Crawford said the site has "as of right zoning for six storeys that could go up to eight".
Phone calls to the developer by Birch Cliff News on Friday were not returned.
Crawford said the developers will have to follow the guidelines laid out in the 2008 Kingston Rd. revitalization study, which calls for a vibrant, mixed-use, pedestrian-oriented main street with beautiful streetscapes, high quality architecture, compatible development and economic prosperity."
The revitalization study includes a specific policy for the stretch between Warden and Manderley that says "Council should be satisfied that new development reinforces and respects the existing development in the surrounding area."
Crawford has been doing some background research on Core Development Group and said they have a reputation for "good quality work".
According to the Core website, they create "…unique urban developments that combine innovative architectural design with high quality construction."
Crawford said the developer has indicated they plan to consult widely, beyond what's required by law, in order to build something that meets the needs of the community.
"The sense I'm getting is that they are they are really concerned about putting something into the community that fits in with the community."
This latest condo is the sixth condominium  project to come to Kingston Rd. between Victoria Park and Birchmount since 2012.