New mini-murals
Birch Cliff is already blessed with several large outdoor murals that beautify and brand the community and now mini-murals are popping up on utility boxes all over the neighbourhood.
It's part of the Bell Box Murals Project that was created to transform drab gray utility boxes into colorful artwork that will spruce up communities and discourage taggers.
Eight murals with birch tree themes are being painted on utility boxes between Birchmount and Victoria Park and are currently in various stages of completion.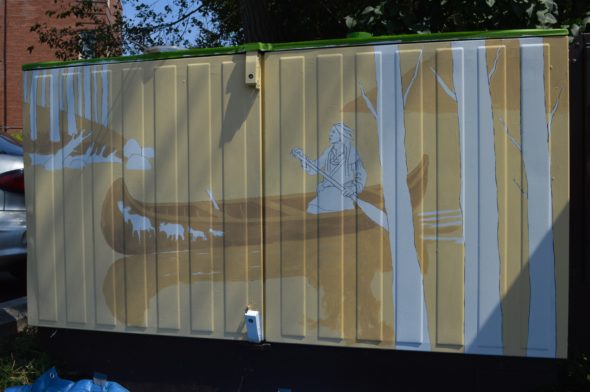 Retired graphic artist Tak Bui, is painting a native Canadian in a birch bark canoe at the southeast corner of Kingston and Warden.
"I wanted to cherish the fact that people lived in this area for thousands of years and used  natural materials for their livelihood," Bui says. "And I guess just be mindful in our neighborhood about how one time it was….a little bit more environmentally friendly.
Bui is painting in sepia tones to highlight the historical aspect of his mural.  He says he decided on a peaceful image of a native Ojibwe man and did research on headdress and clothing to make sure it wasn't incorrectly appropriated.
Bui's attention to detail is understandable when you consider that prior to retirement he was an editorial illustrator for newspapers and magazines and also a syndicated cartoonist with the Washington Post.
Benefits of public art
Meanwhile, on the southeast corner of Blantyre and Gerrard, full-time artist De Anne Lamirande is busy painting a mural she calls "Morning Sunrise", depicting dawn on a winter's day.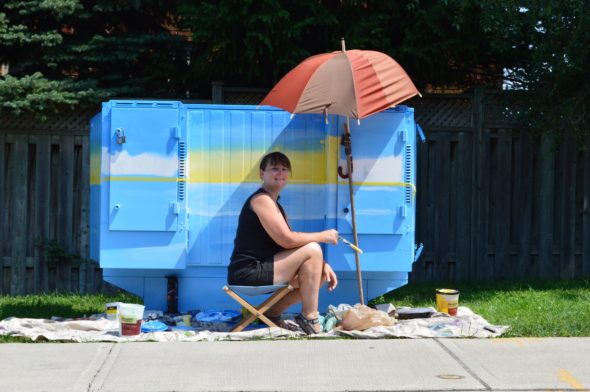 Lamirande, who also designed and painted the Warden underpass mural,  says she's a big fan of public art.
"It really changes people's neighborhoods and people's attitudes of their home, " Lamirande says. "It makes me feel happy. Art brings happiness to people.  If we can give a little bit more beauty to people's lives, that's a project well done."
All of the artists are paid $500 for their work through the Bell Box mural program.  Since 2009, artists have painted 127 murals on outdoor utility boxes in communities throughout Toronto, Southern Ontario and Quebec.
Activism at work
Getting Birch Cliff involved was the brainchild of local activists Barbara Brown and Hedy Greenwood who've been working to improve the neighbourhood for decades.

They approached Councillor Gary Crawford who freed up some money from Section 37  funds the city collected through development fees from the new condo projects in the area.
"Birchcliff already stands as a beautiful community with many fascinating features," Crawford says. "Adding details such as the eight Bell Box paintings provides more points of interest and beautification."
Scroll down to see some of the murals that are already completed as well as a map of where they're being painted.