Today in history: 1935
By Hedy Korbee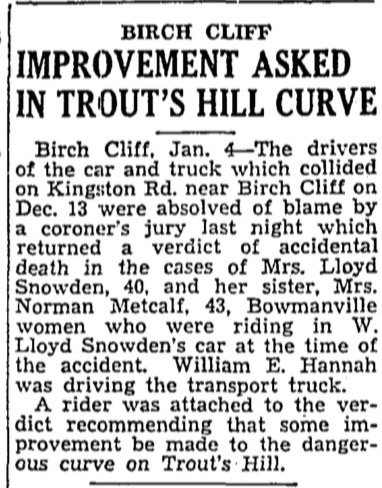 Birch Cliff News is launching a new "Today in History" series to commemorate the upcoming 100th anniversary celebration of Birch Cliff Public School, which is taking place on Sept. 23/24, 2016.
Our first installment comes from the Jan. 4, 1935 edition of the Toronto Daily Star and reads as follows:
Improvement asked in Trout's Hill Curve
"Birch Cliff, Jan. 4 – The drivers of the car and truck which collided on Kingston Rd. near Birch Cliff on Dec. 13 were absolved of blame by a coroner's jury last night which returned a verdict of accidental death in the cases of Mrs. Lloyd Snowden, 40, and her sister Mrs. Norman Metcalf, 43 Bowmanville women who were riding in W. Lloyd Snowden's car at the time of the accident.  William E. Hannah was driving the transport truck.
A rider was attached to the verdict recommending that some improvement be made to the dangerous curve on Trout's Hill."
Where is Trout's Hill?
Trout's Hill was an interesting local landmark/stretch of Kingston Rd. that many current Birch Cliff residents have probably never heard about.
Located just east of Kingston and Glen Everest Rd., Trout's Hill was named after the couple who built a stately white mansion overlooking the Scarborough Bluffs, Edward Trout and Jennie Kidd Gowanlock Trout.
Jennie Kidd Gowanlock as born in 1841 in Scotland, moved to Canada with her parents in 1847, and in 1865 married Edward Trout who ran a financial newspaper called The Monetary Times.
Jennie Trout played an important role in the history of women's rights in Canada as she was the first woman to legally become a medical doctor and was the only woman licensed to practice medicine until 1880.
In 1991, Canada Post issued a postage stamp in honour of Jennie Kidd Gowanlock Trout.
A 1930s era map
The artistic rendering, below, of the interchange at Danforth Ave. and Kingston Rd. (built in 1937) clearly shows Trout's Hill and the Trout residence on the left-hand side.
The White Castle
The Trout homestead, with its turret and white stucco facade was well known in the Birch Cliff area, even more so in the years after the Trout family vacated the property.
It became known as the White Castle Inn and was a popular local landmark and watering hole until it was gutted by a fire in the late 1960s or early 1970s. (If anybody knows the actual date please let us know in the comments section below.)
This is what Trout's Hill looks like today.
Thanks to local author Jane Fairburn whose book "Along the Shore" was a source of information for this article.  I recommend the book for anyone who is interested in local history.  Thanks also to the Scarborough Archives.
Submit a story idea