Ugly clean-up after storm
                                                                                       By Hedy Korbee
One of the prettiest streets in Birch Cliff was transformed today into what one resident called "HazMat Alley" as homeowners struggled to deal with the aftermath of yesterday's torrential rainstorm.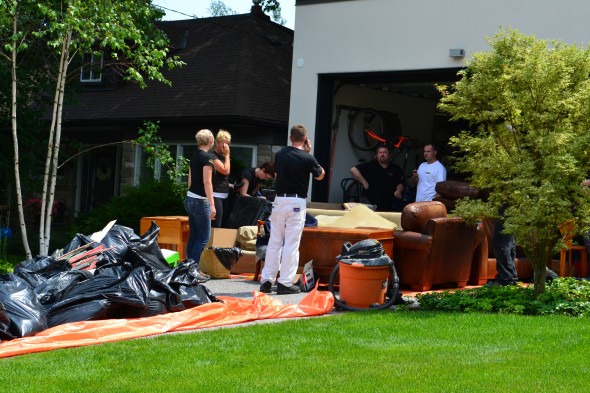 Crescentwood Road was lined with emergency clean-up vehicles coping with flood damage as well as the hazardous waste that poured into basements when the sewers backed up.
Raw sewage in basements
Driveways were filled with carpets, flooring and household belongings soaked with raw sewage, as well as separate piles of salvageable furniture that homeowners managed to rescue during the rainstorm.
Sue Ronaldson has lived on Queensgrove at the corner of Crescentwood for 33 years and said she's never seen anything like it.
Ronaldson said she came home to find water streaming down Queensgrove "like the Mississippi River".  The sewer at the corner backed up and water started streaming down into her sloped driveway until it was 8 1/2 feet deep and starting to enter the house underneath the sliding doors.
Raw sewage also came up through the drains in the laundry and furnace rooms.
Ronaldson estimated that rebuilding their basement could cost approximately $80,000 but said structural damage is not her biggest worry:
"The thing we're really concerned about is my youngest son has autism and Tourette's and this is really throwing him off the deep end.  So they're going to try and expedite this and fast as they can because Adam's not coping with this at all."
White Birch resident Hannah Korbee was watching TV in her newly renovated basement and said she first noticed an unusual smell, and was shocked when she went to investigate"
"I turned around and I saw a rushing wave of water coming down my basement  and it was huge, it was at least a foot high wave of disgusting water rushing down the hallway.   It was coming in really, really quickly.  At first it was only in the hallway, but it was a matter of two minutes before it was completely all over the basement and the water level started to rise.  It was terrible."
John Foremski, who lives on Crescentwood, said he was alerted by an unusual sound coming from the basement and is still in a state of shock from what he discovered in the bathroom:
"It was a foot and a half geyser coming right up through our toilet.  Our bathtub was filled to overflowing and our toilet was just a geyser erupting.  It was a helpless feeling.  I watched little containers of things go floating by and tried to save what electronics I could, but it was a little too late."
Foremski said he feels lucky he wasn't electrocuted because he was running around in six inches of water and forgot about all the power cords he had on the floor.
Foremski is one of the few homeowners who hasn't been visited by a clean-up crew.  He's still waiting for the insurance adjuster to visit.
Safety Hazards
Jeremy Kuyvenhoven of Paul Davis Systems, which is cleaning up several homes in the neighbourhood, said his firm received over 100 phone calls from insurance companies yesterday and they dispatched every available crew to rip out drywall, flooring and carpeting and to dry, clean and disinfect.  He said people need to be aware of the safety hazards:
"You obviously don't want fecal matter being airborne or touching anything because it can lead to diseases, health issues and respiratory issues.  Obviously you need things safe and sound in the house."
Kuyvenhoven said what needs to be torn out is anything that's made of a porous material – anything soft – like drywall, laminate flooring and particle board.  Real wood and tile can be cleaned and disinfected, according to Kuyvenhoven.  His company has a special machine to clean personal belongings, but he says many homeowners choose to throw them out.
Ward 36 Councillor Gary Crawford said his office has been inundated with calls and this afternoon he visited affected residents.
"It's a tragedy when this happens but we're trying to give them as much comfort as we can, to let them know that they're not alone.  We're here, and my office is trying to help out in any way we can and at least point people in the right direction. They're traumatized."
Crawford said he's hoping people have taken the right steps to call their insurance company and contact Toronto Water if there are any remaining blockages.   There is a process by which people can file a claim against the city of Toronto and they can call his office or 311 in order to do that, although he said usually that's handled by insurance companies.
More photos below